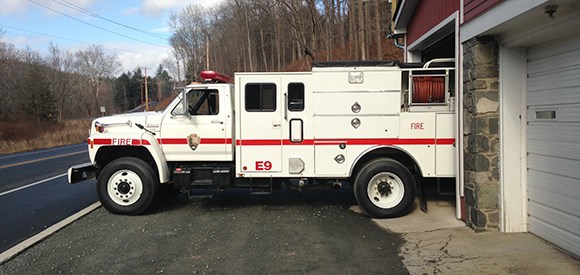 The successful completion of a wildland fire engine loan from one agency to another was made possible by the collaboration of numerous individuals from parks in the Northeast Region of the National Park Service. As a result of the efforts of Andy Mitchell, the fire management officer for Acadia National Park, and the North Country Fire Management Program, responders at Roosevelt Campobello International Park now have an engine that will improve their response to wildfire.
Tight budgets call for partnerships with good friends. To that end, Acadia National Park's fire managers reached out to meet Roosevelt Campobello International Park's (ROCA) need for both a wildland fire engine and expertise for its wildland-urban interface challenge that is exacerbated by encroaching coastal red spruce forest. Numerous individuals collaborated to make the loan possible, including ROCA's superintendent, Acadia's fleet manager and property loan expert, US Customs processors, and Acadia's fire management staff, who arranged for the loan and drove the truck from Delaware Water Gap National Recreation Area to the park on the border with Canada.
Simultaneously, Andy Mitchell drafted an Inter-park Agreement to enable wider cooperation regarding fuels management and preparedness activities. The draft is currently being reviewed and edited by the provincial commission that oversees management of the international park.
The park encompasses 2,800 acres of mixed upland habitat and numerous historic structures used by Franklin Roosevelt throughout his life. Many are built from cedar shake and wood frame construction. Their loss to wildfire would be an irreplaceable tragedy for the cultural heritage of both Canada and the United States.
The North Country program encompasses ten park units in Maine, New Hampshire, Vermont, New York, and Connecticut. It is rewarding to reach across the international border to assist Roosevelt Campobello International Park and add it to the North Country group.
Contact: Mark Musitano, NPS Northeast Region fire management officer
E-mail: e-mail us
Phone: (207) 288-8780