One Less Spark, One Less Wildfire Campaign Aims to Prevent Human-Caused Wildfires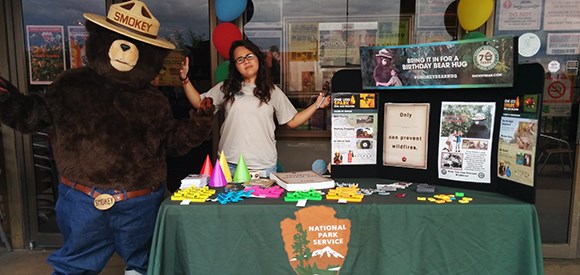 Saguaro National Park has been working with local partners to bring the Southwest Coordinating Group's One Less Spark, One Less Wildfire campaign to southern Arizona to help educate the public about ways they can help prevent human-caused fires.
The program focuses primarily on vehicle and homeowner equipment-caused fires, but supports the prevention of all human-caused fires. The campaign highlights lesser known but significant causes of wildfires, including sparks created by tow chains dragging along the pavement or by a metal lawnmower blade striking a rock.
In 2014, the Southwest Coordinating Group's Prevention and Information Committee adapted the program for use regionwide. Partners included the Arizona State Forestry Division, New Mexico State Forestry Division, USDA Forest Service, Bureau of Land Management, US Fish and Wildlife Service, Bureau of Indian Affairs, and National Park Service. Fire and agency staff helped distribute posters, banners, rack cards, magnets, and stickers to ranger stations, local residents, businesses, and fire departments around southern Arizona. Interagency partners also highlighted the program with local media during preseason media visits and interviews throughout the fire season.
A One Less Spark toolkit for the Southwest, including posters, rack cards, talking points, and public service announcements, is available online at http://wildlandfire.az.gov and at http://nmfireinfo.com.
Contact: Michelle Fidler
Email: e-mail us
Phone: (520) 733-5136
Last updated: December 15, 2017