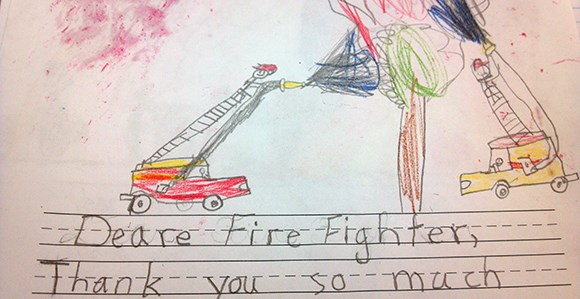 The Huckabee Fire was reported at 1:00 pm on March 29, 2013, in the Deep Lake unit on the western edge of Big Cypress National Preserve. Initial attack operations focused on preventing the fire from spreading to the north, where smoke had the potential to affect I-75, the major east-west artery for transportation in South Florida. Despite constructing nearly two miles of "mash" line with three swamp buggies, crews were forced to abandon the northern line late that night to assist with spot fires across Highway 29 on state land to the west. Working with local fire departments and the Florida Forest Service (FFS), a 15-acre spot fire was controlled in the early morning hours of March 30. Anticipating more spot fires on state land and the fire crossing I-75, a local Type 3 organization was established, consisting of personnel from Big Cypress, Florida Panther National Wildlife Refuge (FPNWR), Everglades National Park, Loxahatchee NWR, and the Atlanta NIMO team.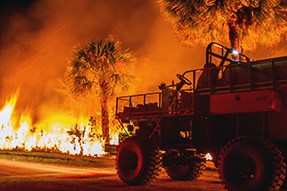 The Type 3 team identified Highway 29 and I-75 as the major concerns to firefighter and public safety, and worked to mitigate those dangers. A second burnout was conducted on March 31 to stop fire spread as it began to impact I-75 with flames and smoke. Despite this operation, the Florida Highway Patrol closed I-75 during late night and early morning hours over the next four days due to residual smoke mixing with fog. Crews continued to bring fire south along Turner River Road on the eastern edge of the fire, tying it into a 3-year-old prescribed burn and the Deep Lake cypress strand to the south. Nearly 16,000 acres of the 20,300 that ultimately burned had been scheduled for prescribed fire treatment during spring 2013, but were not burned due to the dry spring conditions.
Due to widespread media interest and the wildland urban interface in and around the preserve, a public information officer (PIO) was an essential component of the team. The PIO was instrumental in conducting interviews with local news agencies that were interested in the fire and closures to I-75.
The PIO was also contacted by a local school with letters from more than 150 schoolchildren thanking firefighters for their hard work in protecting the communities of Everglades City, Jerome, and Copeland. Several structures along Highway 29 were threatened, and many of the schoolchildren living near the preserve saw fire engines, helicopters, suppression buggies, and active fire throughout the weekend.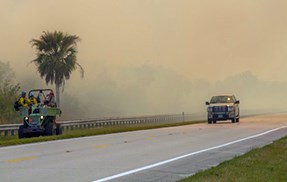 Big Cypress and its partners have been using prescribed fire and managed wildfire for several decades to reduce hazardous fuels and diminish the risk of wildfire to life, property, and resources on Department of the Interior lands in South Florida. Working together on planned and unplanned ignitions has brought the programs closer together, and they continue to find ways to deepen their collaboration. The positive working relationships formed throughout the year were the cornerstone of success on the Huckabee fire.
Contact: Jordan McKnight, Big Cypress assistant fire management officer, or Cass Palmer, FPNWR fire management officer
E-mail: e-mail us
Phone: (239) 695-9280 x103 or (239) 657-5476
Last updated: January 12, 2017