Wildland Fire: Firefighter Travel
Save Time at Airport Security
Airport security screening procedures affect wildland firefighters every fire season. The Transportation Security Administration (TSA) regulates the security screening of all passengers traveling on commercial and charter aircraft. Airlines have also instituted baggage requirements that affect travelers. All personnel should be aware of the regulations and procedures.
Current TSA regulations prevent bringing many items on the plane in carry-on bags, but those same items can be carried in checked baggage. Such items include knives or razors of any kind, scissors, axes, hand tools, and power tools such as chainsaws or drills. Disposable razors and their cartridges are permitted in carry-on bags.
Items not permitted
Some items that are not permitted on commercial or charter aircraft, either in carry-on bags or in checked baggage, include fuses, strike-anywhere matches, lighter fluid, and gasoline.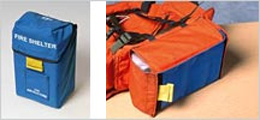 Fire Shelters
The TSA has asked that firefighters carrying fire shelters keep the shelter in either the yellow or blue fire shelter carrying case, or within the backpack pouch specifically designed to hold a fire shelter (figure 1). This practice should help screeners during processing and decrease the likelihood that they could damage the fire shelter during the security inspection.
Resource Orders
Security screeners may ask firefighters to verify their government identification or confirm resource orders sending them to the fire, when these materials are available. Having these documents readily available should help ensure efficient security screening.
Baggage Weight
The last item of concern is the limitation on checked baggage imposed by individual airlines. Some airlines have instituted additional charges for bags weighing more than 50 pounds and for bags with a combined length, width, and height of more than 62 inches. Many full red bags (figure 2) would be over either the weight or the size limit. The baggage fees for bags that are too heavy or too big could be between $25 and $50 per bag. Airlines may demand payment at the gate, whether by government or personal credit card. Since these additional charges are imposed by individual airlines, the Forest Service has not been able to secure a waiver, clearance, or exemption of these requirements. If such an arrangement is reached, an additional advisory will be issued.
According to the National Interagency Mobilization Guide, all personnel traveling to fires, with the exception of smokejumpers, rappellers, and helicopter managers, are allowed to carry one frameless, soft pack not to exceed 45 pounds, and web gear or a briefcase (not both), not to exceed 20 pounds. If these limitations are followed, the 50-pound weight restriction will not be a problem. Smokejumpers, rappellers, and helicopter managers have higher baggage weight limits.
If the bag weight or size restrictions are a concern, you may want to carry a small duffel bag so you can repack your red bag before traveling. You may be able to meet the baggage requirements by shifting some items from your red bag to a second bag for the flight.