Everglades Firefighters Assist Florida Forest Service and Miami-Dade Natural Areas Management in Prescribed Fires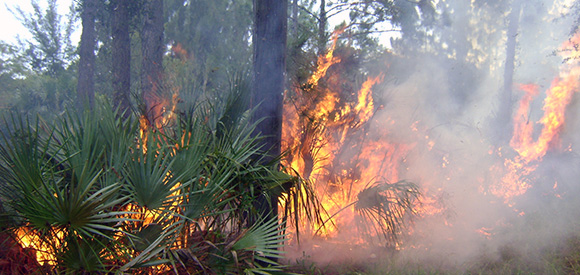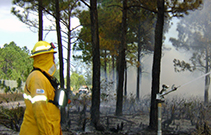 Everglades National Park firefighters worked collaboratively with the Florida Forest Service and Miami-Dade County Natural Areas Management Division to conduct four prescribed fires during October and November 2014.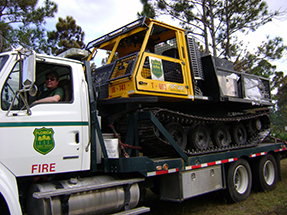 The South Florida fire community coordinated efforts on prescribed fires to allow managers to complete multiple fire treatments aimed at maintaining pine rockland habitat, opening forest canopy, and improving habitat for endangered plants, such as deltoid spurge. According to the U.S. Fish and Wildlife Service, deltoid spurge requires periodic fires to maintain low leaf litter levels and open understory. The recovery of the endangered plant has been threatened by habitat loss, fire suppression, and exotic plant invasions.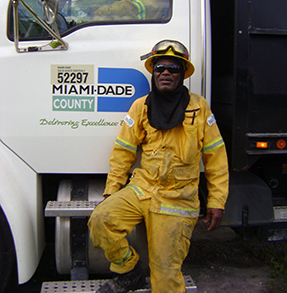 The four prescribed fires were also essential for reducing hazardous fuel buildups and reducing risk to homes and infrastructure in the wildland urban interface--the area where human development and undeveloped wildland vegetation intermingle. Burning fragments of pineland, surrounded by the robust population and infrastructure of Miami-Dade County, under planned conditions, removes flammable dead debris and promotes regrowth of new green and less fire-prone vegetation, thus creating safer conditions for firefighters to suppress accidental fires when necessary. Prescribed fires such as these allow fire managers to safely manage fire under planned conditions rather than under much drier, windy conditions often experienced during wildfires, which could threaten property and local businesses.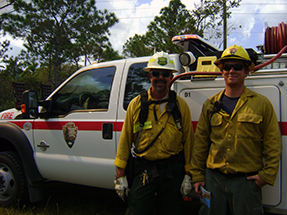 Partnerships like this promote an innovative approach to accomplish common fire management goals shared by various fire and land management agencies in South Florida.
For more information on Everglades National Park prescribed fire.
For more information on Florida Forest Service.
For more information on Miami-Dade Parks, Natural Areas Management.
For more information on deltoid spurge.
Contact: Rick Anderson, Fire Management Officer
Email: Rick_Anderson@nps.gov
Phone: (305) 242-7853
Last updated: December 15, 2016