Article
Evaluating Ecological Impacts of the 2012 Neighbor Mountain Fire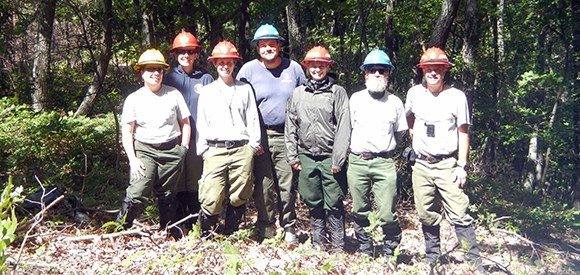 Members of fire effects crews from both the Northeast and Southeast regions of the National Park Service joined forces for four days in August 2013 to conduct field reconnaissance and gather data evaluating the ecological effects of the Neighbor Mountain fire that took place in Shenandoah National Park in June and July 2012. Crew members from Shenandoah National Park, Great Smoky Mountains National Park, and the Natchez Trace Parkway participated in this effort.
Throughout the year these fire ecology crews share information, resources, and personnel as their workloads allow. This field crew gathering, now known as the "Annual NER/SER Fire Effects Summit" is an excellent partnership forum for sharing of experience, ideas, and monitoring protocols. The large group size makes it possible to undertake larger field projects that would otherwise be difficult to complete with only local staff. Cost effectiveness and efficiencies are gained by having the crews camp out, which minimizes travel time to field sites and increases time for sharing ideas.
This collaboration is likely to become even more important in the future as budgets tighten. The exchange of ideas, particularly those related to how we can meet our monitoring goals as funding declines, will be critical to the future success of our programs.
Contact: Melissa Forder, Shenandoah National Park
E-mail: e-mail us
Phone: (549) 999-3500 x3323
Last updated: January 19, 2017