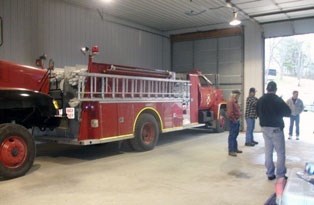 The fire management staff from the Missouri Area Park Group, located at Ozark National Scenic Riverways, worked with other agencies, local volunteer fire departments, and community leaders to help a local county develop a community wildfire protection plan (CWPP) that was finalized in 2012.
Shannon County is a rural county located in the south central part of Missouri, where the largest portion of Ozark National Scenic Riverways is situated. The county is approximately 1,004 square miles and has a population of 8,423. Roughly half of the land mass of the county is public land that is administered by state and federal government or private land management organizations. Most of this public land is maintained as forest and woodlands, with glades, savannahs, streams, and rivers woven throughout. Private residences and structures are scattered amongst the parcels of public land. There are also numerous government-owned facilities and historic structures related to Ozark culture.
A project technician was hired to draft the CWPP while working closely with local land management agencies, county commissioners, volunteer fire departments, businesses, and community leaders. The project technician also conducted community outreach through various efforts. A mass mailing of 3,500 letters was sent to local residents with information and surveys on wildfire preparedness and defensible space. Home audits were made available to residents who volunteered to have their residences inspected to assess their preparedness for a wildfire. Open houses and educational presentations were held at several local volunteer fire departments and for local schoolchildren to distribute information and increase understanding of wildfire in the Ozarks.
Completion of this CWPP is a huge accomplishment for a rural area such as Shannon County. The CWPP lays the framework that will allow the county to reduce risk to firefighters and communities, to protect property and the environment, to improve the ability to respond to wildfires, and to preserve vital government and community operations in the event of a major wildfire. These benefits will be possible largely due to the eligibility of the county and the communities located within to now tap into national funding sources to help with community fire planning, hazardous fuel reduction, and wildfire prevention. Improved capabilities for fire prevention and wildfire response by the local communities will increase the support they can provide for the suppression of wildfires in Shannon County. Four of the volunteer fire departments that maintain memoranda of understanding with Ozark National Scenic Riverways for structural and wildfire support are located in Shannon County and will have the opportunity to directly benefit from the completion of the community wildfire prevention plan.
Contact: Dena Matteson, fire communication and education specialist
Email: e-mail us
Phone: (573) 323-8028