Canadian Top Prescribed Burn 2013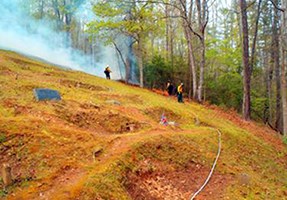 On May 1, 2013, wildland firefighters in Great Smoky Mountains National Park began a prescribed burn in the 372-acre Jesse Ridge subunit as part of the 3,580-acre Canadian Top Prescribed Fire Plan for the pine and mixed hardwood ecosystem found on the ridges surrounding the Cataloochee Valley area in the eastern portion on the North Carolina side of Great Smoky Mountains National Park.
The goals of the plan include using fire to reduce hazardous fuel accumulations and to restore and maintain a diverse and functioning ecosystem by reintroducing the historic role of fire as an ecological process to the fire-adapted communities.
The Great Smoky Wildland Fire Module with the Southern Appalachian Fire Effects Team filled overhead positions and firing and holding groups with additional help from the park's Engine 62 Crew and a couple of firefighters from the park's Wildlife and Vegetation Management divisions.
After a 1.5-hour hike into the unit, the test fire was lit on Jesse Ridge. And in a nod to Mother Nature, the fire was allowed to back down the slopes, truly mimicking a natural lightning strike. Using flowing streams, shaded fuels, and precise ignitions, the Jesse Ridge prescribed fire was allowed to burn on its own while foregoing typical prescribed fire black-lining operations that essentially burn from the outside in.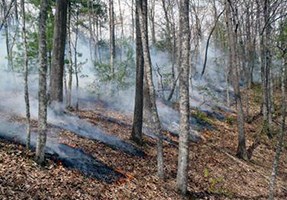 At the end of the day, crews departed as fire slowly backed down the slopes. Upon returning to the unit the next day to continue operations, it was observed that the fire had backed all night, exceeding expectations and setting up the unit for completion in just two days. Ignition crews hiked up into the unit, met the active fire edge, and continued to gently nurse it down a few key sub-ridges. Holding crews checked the previous day's activity and then began a hose-lay operation to protect a historic graveyard surrounded by debris and brush piled up from years of maintenance. The fire was checked around the cemetery, and crews monitored the burn the rest of the shift while waiting for predicted precipitation, which came the next day.
Objectives were successfully met and local media interest was high. The park had reintroduced an elk herd near the burn unit in 2001 that has done extremely well. The burn supports the park objective of improving and increasing elk forage and habitat and has already led to communications with the Rocky Mountain Elk Foundation for future prescribed burn endeavors in the Cataloochee Valley area.
Contact: Shane Paxton
Email: e-mail us
Phone: (865) 430-4754
Last updated: January 17, 2017