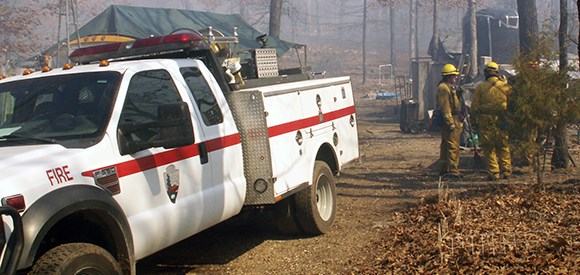 On March 6, 2013, Buffalo National River conducted a prescribed fire inside the Lower Buffalo Wilderness. The 11,284-acre Lower Buffalo Wilderness prescribed fire unit is located in southeast Marion County, approximately seven miles southeast of Flippin, Arkansas.
The prescribed burn was conducted to reduce the hazardous fuel loads that could possibly lead to catastrophic wildfires, promote the restoration of post oak savannas and cedar glades areas, lower the risk potential of various forest diseases, and improve wildlife habitat. Prescribed fire helps to control invasive vegetation and opens the tree canopy to allow sunlight to reach native plants on the ground. Hundreds of native wildflower and grass species in the Lower Buffalo Wilderness benefit from prescribed fire, including several listed as imperiled in Arkansas, such as the purple beardtongue, silky aster, fringed puccoon, and fall glade onion. The National Park Service's prescribed fire also benefited landowners and communities along the park boundary by reducing the buildup of vegetation near homes and structures.
Some of the birds that benefited from the prescribed fire include: prairie warbler, painted bunting, wild turkey, ruby-throated hummingbird, great-crested flycatcher, yellow-throated vireo, pine warbler, indigo bunting, Eastern bluebird, summer tanager, greater roadrunner, cedar waxwing, blue-gray gnatcatcher, Eastern wood peewee, yellow-breasted chat, white-eyed vireo, red-headed woodpecker, Eastern towhee, field sparrow, Cooper's hawk, chipping sparrow, brown thrasher, Northern flicker, and common yellowthroat. The species listed in bold are declining nationally, but benefitted from the prescribed burn.
Several bat species, including declining bat species, show a preference to forage in places that have been burned the previous dormant season. Collared lizards, prairie racerunner lizards, and most native land reptiles benefit from prescribed burns as well.