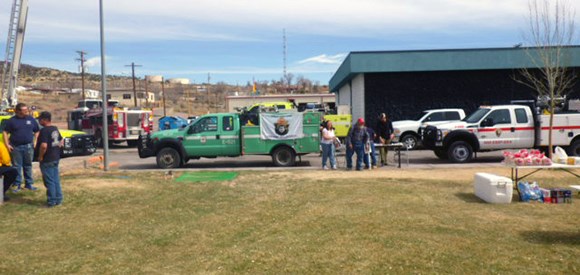 El Malpais fire team members joined with local and area fire crews to present a community outreach event on March 30, 2013 to kick off Wildfire Prevention Week in New Mexico.
Crews lined up engines, water trucks, and other emergency equipment at the City Hall Park in Grants, New Mexico. Members of the public toured the engines and equipment and got acquainted with the men and women who work to protect their communities from fire. Cibola County provided hot dogs, soda, and water to visitors for the event. Firefighters staffed the grill and served the food. The John Brooks Supermarket granted a discount to the county for the supplies. Crews also handed out Firewise information for homeowners. Smokey Bear was present as well, and was joined by Scorch from the Milan Fire Department, to educate children about fire safety.
This is the third year that El Malpais National Monument crews have collaborated with local and area fire departments and agencies to conduct a wildfire prevention event in Grants, NM.
Contact: David Dukart, fuels specialist
E-mail: e-mail us
Phone: (505) 285-4641 x14