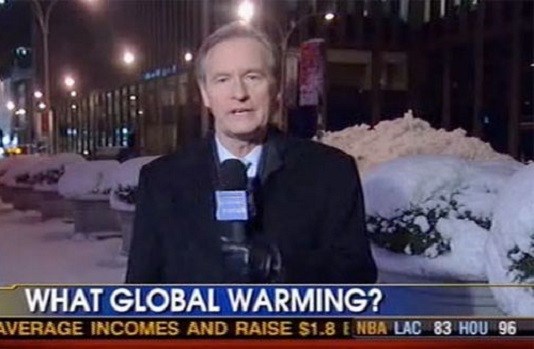 Recent Northeastern winters seem to be suffering from a severe case of schizophrenia. Bouncing back and forth from record cold and snowfall one day, to record warm temperatures and floods only a day or two later. What is one to make of this climatological conundrum? It is often during regional record cold or snow events that some news media run stories with photos of huge snow-banks with titles like "What Global Warming?" or "Northeast Prepares for Another 3 Feet of Global Warming". And the person who has just shoveled out form the third major blizzard in as many weeks may indeed be wondering how cold and snow can possibly relate to a warming climate.
Weather and Climate Defined
Before getting into finer detail, defining a couple of commonplace but key terms is critical to laying the groundwork for any discussion about global warming. The first and perhaps most important word is weather. Weather can be defined as the state of the atmosphere at a given time and place. It is very specific, local, and ephemeral - a snapshot in time, much like a photograph. This is in contrast to climate, which is made up of long-term weather patterns with average temperatures and precipitation totals (including the typical occurrences of weather extremes) that are used to characterize a particular region. Think of climate more like a documentary movie. It takes many thousands of weather 'photos' put together to see the climate 'movie' and to tell its story. Much in the same way that trying to use a single frame from a reel of an Alfred Hitchcock movie to figure out the whole story would be fruitless, so is using one isolated weather event in one very specific part of the world to try to understand global climate. The distinction is very important because it is often misplaced references to weather events that are used to either bolster or weaken supposed evidence of climate change. Recent weather events perfectly illustrate this point: at the specific time and place of Redding, California at 6:07 AM on February 21st, , 2018, records for cold were being set and their fruit and vegetable crops were damaged (a weather photo). In the east and southern two-thirds of the country, temperatures have been higher than normal this winter, and globally averaged temperature for 2017 show it was the third warmest year in NOAA's 138-year climate record, not far behind the warmest year of 2016 and the second warmest of 2015 (climate movie).