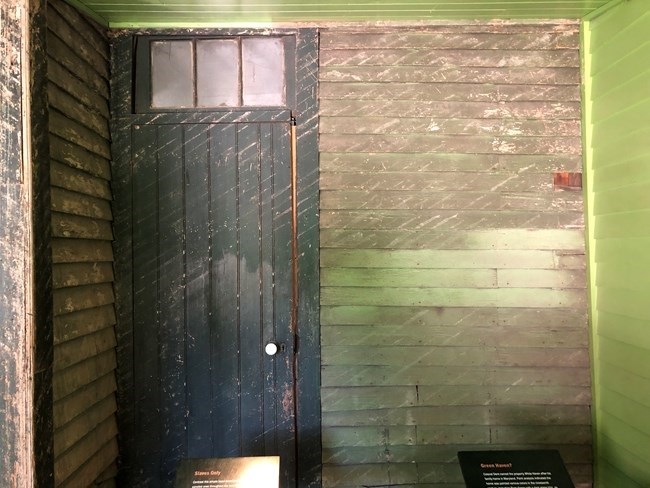 Perhaps the most asked questions from visitors to Ulysses S. Grant National Historic Site are why the White Haven estate is painted green, and if the green color is historic.
The story begins with Julia Dent Grant's family. When the Dents moved to this property in 1820, they named it "White Haven" because other Dent family relatives had previously owned an eighteenth century plantation with the same name in Charles County, Maryland. Julia Dent Grant also recalled that her family ancestry went back to England, possibly from a town named White Haven. Despite this name, the house was originally painted a cream, light beige color before the Civil War. This was the color of the house when Ulysses S. Grant and his family lived on the property in the 1850s.

At some point around 1860, the house was repainted medium gray. That color did not last long, however. In 1874, during the Grant family's ownership of White Haven and Ulysses S. Grant's presidency, the house was repainted Paris Green. A ledger book from local storekeeper Jacob Wohlschlaeger indicates that the chemicals required to create the bright green color were purchased in May and June of that year. The original Paris Green color was very toxic and had an arsenic-based compound. The "Paris Green" name is believed to have been created in the 1830s after an incident in the city where several people died after ingesting candy with the color on it. According to retired NPS Historical Architect Al O'Bright, the chemical compound was used as an insecticide under the same name later on in the twentieth century. Nevertheless Paris Green became a very popular exterior and interior house color during the Victorian Era.

White Haven was painted white for the first time under the ownership of Albert and Delbert Wenzlick in 1940. It would remain that color until the first National Park Service employees arrived at the park fifty years later. After much debate and discussion, the National Park Service opted to repaint White Haven back to its Victorian Paris Green color during the house's restoration in the 1990s since that was the color of the house during the Grant family's ownership of the property.