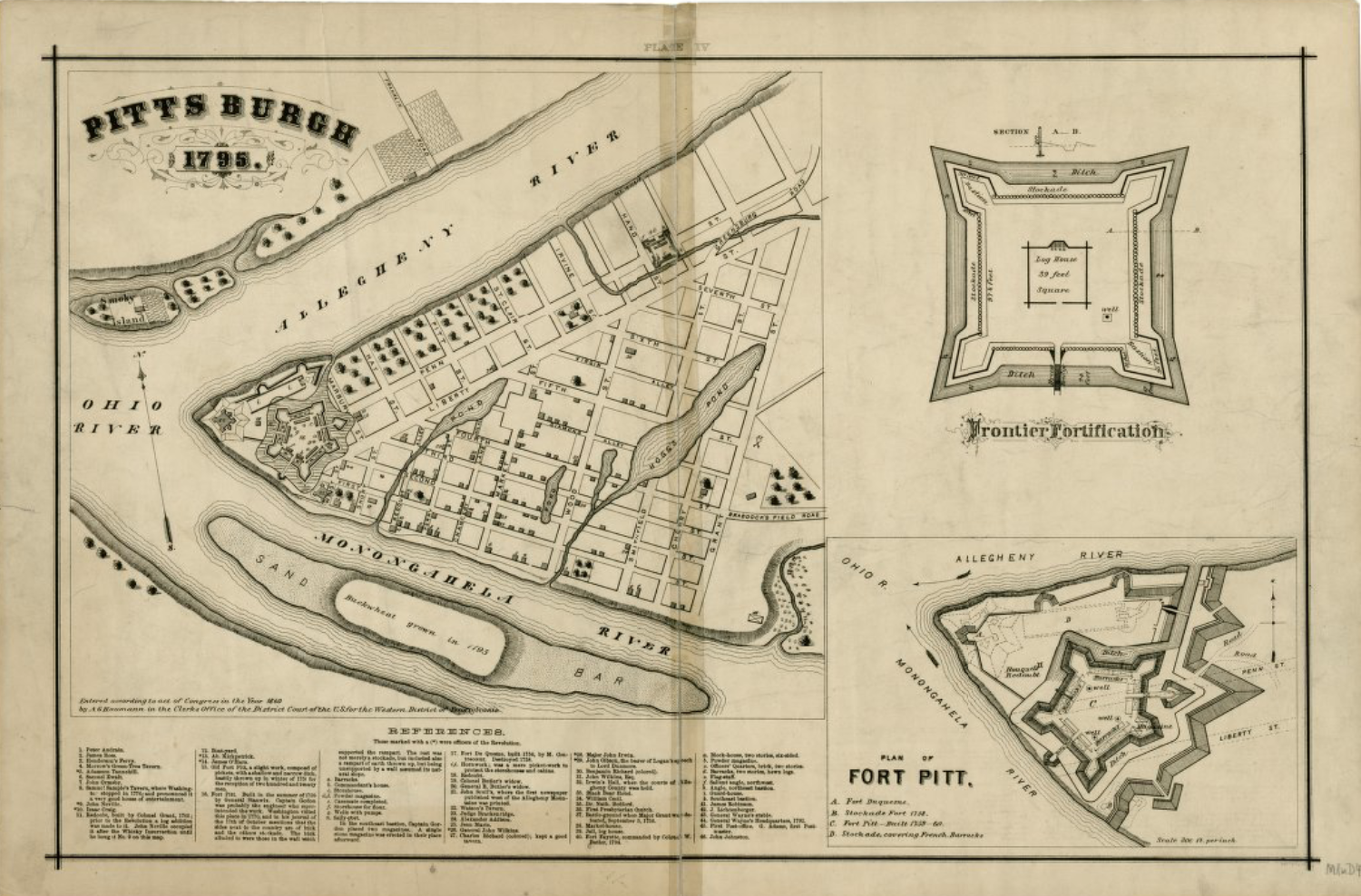 Who really built the Lewis and Clark keelboat?
Was it Captain John Walker of Elizabeth, Pennsylvania? Or was it someone else from the vicinity of Pittsburgh?
Based on Meriwether Lewis's writings in letters and journals, we clearly get the feeling that he didn't travel 15 miles each day from Pittsburgh to Elizabeth to check on the boat's progress. He never mentions such travel, which by horseback would have taken him about three hours each way.
We do know that when Lewis launched on the morning of August 31, 1803, he traveled three miles down the river arriving at Brunot's Island, which is approximately three miles from the largest shipyard of Pittsburgh. A map of 1805 shows this yard within a tract of land bearing the name of William Greenough.
But Greenough was a merchant who ran a store on Water Street and owned building lots in the shipyard area. There's no evidence that associates Greenough with ship building, so it's likely he simply owned the land where the yard operated.
The shipyard begin in 1800 or 1801 by Louis Tarascon, a French-born merchant who set up his brother John and one of his clerks, James Berthoud. Together they formed "John A. Tarascon Bros., James Berthoud Co." In 1803, the builders launched their first sea-merchant ships, the schooner Amity and the ship Pittsburgh. This quickly became Pittsburgh's best-equipped shipyard and was a probably place for Lewis's keelboat.
However, there is another option in the Pittsburgh area: Fort Fayette, which ironically was also about three miles from Brunot's Island. Whether boats and ships were built here in 1803 is unclear, but records do indicate construction was taking place by 1812.
But these two sites are among many – boats of all sorts were being built all along the Monongahela, Allegheny and Ohio rivers. It's possible Lewis sourced a small-time builder, based on his time-frame or budget.
One thing for certain, no reputable boat builder would have behaved the way Lewis's did. He was, according to Lewis's letters to Jefferson, "constantly either sick or drunk. He quarreled with his workmen, and several of them left him." The builder also struggled with procuring lumber for the project. All this indicates a lesser-known company and it may explain why Lewis never made note of the boat builder.
So, whether the answer lies in Elizabeth or Pittsburgh, the mystery of the keelboat builder continues to be unsolved.