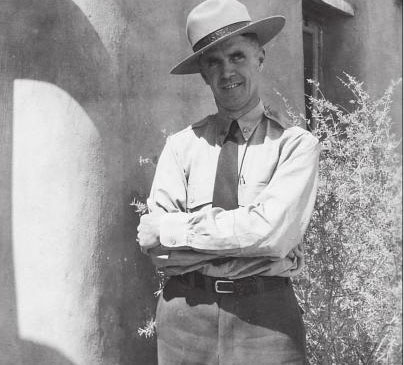 With the passing of two generations since the end of the Second World War, scholars of the National Park Service are now fashioning the context of life at units like White Sands National Monument. What emerges is both the continuity of issues (economic, political, and ecological) that shaped the park, as well as the patterns of change that rendered the monument distinctive within the national park system.  White Sands owes its early history to two men.  Often referred to as the Father of White Sands, Tom Charles fine-tuned the late New Mexico Senator and later Secretary of the Interior Albert Falls's vision of a yearlong playground.  Johnwill Farris would become the "second caretaker" or the first designated superintendent of White Sands NM. 
During World War II, Johnwill Faris and his small staff would endeavor to provide the visiting public with the aesthetic and recreational experiences that they had come to expect from the dunes. Yet the vagaries of war surrounded White Sands in ways that few other NPS units could imagine. From this emerged a conflict between preservation and development that would persist for the next five decades, only shifting course as the nation in the 1990s faced the duality of declining economic activity and the demise of the Cold War.
White Sands owed its creation to policies crafted in the Great Depression and subsequent New Deal. By 1940 the monument possessed the boundaries and structures that would entertain millions of guests throughout the second half of the twentieth century. Yet the changes brought to the American West by the entry of U.S. forces into war guaranteed that White Sands would remain one of the most-visited parks in the NPS network. Gerald Nash has written that by 1945 "the West had become a barometer of American life." Ten million men and women passed through the region as members of the armed services, while millions more civilians flocked to the West's myriad of defense installations and industrial centers. The Tularosa basin, while not growing on the scale of Albuquerque or El Paso, nonetheless witnessed a large in-migration of service personnel and their families to the Alamogordo Army Air Base (AAAB). The same conditions of environment that had made White Sands so exotic and forbidding in the 1930s (isolation, distance, aridity, and hot temperatures) suddenly became attractive to the Roosevelt administration's military strategists. The War Department would thus transform southern New Mexico in the space of three short years, and alter the course of White Sands' history.