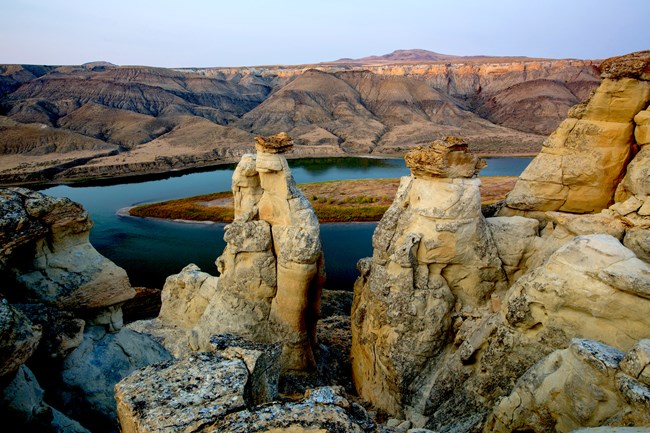 From mid to late May 1805, the Corps of Discovery traveled through a very rocky and barren landscape. Patrick Gass wrote, "We have now got into a country which presents little to our view, but scenes of bareness and desolation…"
So imagine how surprised the men of the Corps would have been when they rounded a bend in the Missouri River on May 31, 1805 and first spotted the magnificence of what we call the Missouri Breaks and the White Cliffs of the Missouri.
Today, the area has remained largely unchanged in the 214 years since the men of the Expedition traveled through it on their epic journey. This spectacular area is now The Upper Missouri River Breaks National Monument – it contains an array of biological, geological, and historical objects of interest. From Fort Benton to the Charles M. Russell National Wildlife Refuge, the monument spans 149 miles of the Upper Missouri River, the adjacent Breaks country, and portions of Arrow Creek, Antelope Creek, and the Judith River.
In 1976, Congress designated the Missouri River segment and corridor in this area a National Wild and Scenic River. Within the monument you can float the river, fish, hike, hunt, drive for pleasure, find a little solitude, enjoy a sense of exploration in a remote setting, or simply marvel at the variety of natural beauty.
The
White Cliffs
area is a
High Potential Historic Site
on the Lewis and Clark National Historic Trail. The monument is administered by the Bureau of Land Management. More information can be found at:
https://www.blm.gov/programs/national-conservation-lands/montana-dakotas/upper-missouri-river-breaks