Charles City County: Westover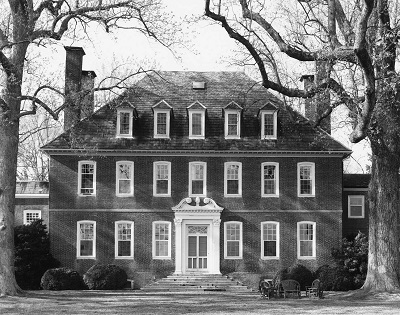 Westover is one of Virginia's first plantations--it was first occupied in 1619. The original 2,000 acres were patented to Captain Thomas Pawlett in 1637. Captain Pawlett was the first official owner. He later sold Westover to Richard Bland, who sold the estate to William Byrd I in 1688. Until recently, historical documents supported that William Byrd II built the mansion between 1730 and 1734. By that time Westover was a vast 1,200 tobacco estate that was barely able to provide a living for its owner. Byrd II was so poor, that at times he was forced to sell some of his enslaved labor. However tree-ring dating on beams in the attics showed that they dated to ca. 1750. This would make William Byrd III the builder of the current mansion.
William Byrd II was also the founder of Richmond. He is known for the diaries he kept describing his life in Virginia and England. His library at Westover was one of the largest, with 4,000 volumes.  Westover passed to Byrd III in 1744 and remained in the Byrd family until 1817. William Byrd I and II are buried at Westover. Since Westover passed out of the Byrd family, it has had eight owners. 
During the Civil War, Major General George McClellan was headquarted at nearby Berkeley. His protege, General Fitz John Porter was stationed at Westover with his troops. It is believed that the east wing of Westover was hit by a cannon--intended for Union troops. The wing caught fire and lay in ruin until Mrs. Claire Sears Ramsey, a Byrd descendent, purchased the property in 1899. She helped to modernize the house. Mrs. Ramsey hired the New York restoration architect William H. Mesereau to modernize the house. Mesereau designed the hyphens connecting the main house to the previously separate dependencies, creating one long building. Mesereau also built the new library dependency to the east on the site of William Byrd's library. Westover was purchased in 1921 by Mr. and Mrs. Richard Crane. The Cranes left the property to their daughter Mrs. Bruce Crane Fisher, the current owner. In 1974 a preservation easement was placed on 636 acres.
Westover is on numerous trails, including the Civil War trail, John Smith Adventures on the James trail, and the Virginia Birding and Wildlife Trail. Visitors can walk the expansive grounds or participate in a house tour. It was listed on the National Register of Historic Places on October 15, 1966 and the Virginia Landmarks Register on September 9, 1969. For more information, please visit: Westover-Plantation.com or call (804) 829-2882. Westover is located at 7000 Westover Road Charles City, VA 23030.
Last updated: September 21, 2016