By Technical Preservation Services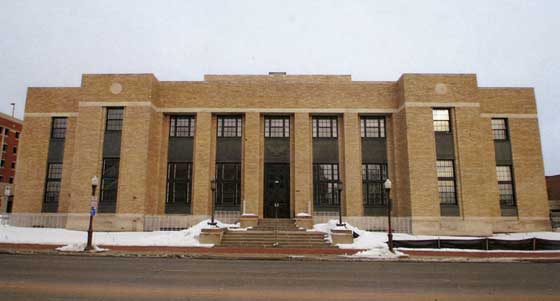 Built in 1938 as a major public works project, the Wausau Federal Building is significant for both its architecture and its role in the local and state government. It was constructed in a distinctive Art Deco style and prior to the recent rehabilitation it retained a good amount of historic detailing, including the lobby mural titled "Lumbering Rural Mail" depicting the Wausau lumbering and milling trades. The building also boasts a federal courtroom which retains virtually all of its Art Deco detailing and furniture. Offices, judge's chambers, postal mail facilities, and detention cells were also housed in the building. After many decades of service to the citizens of Wausau, the building was conveyed by the U. S. General Services Administration to the City of Wausau to keep the building from being demolished. Through the Historic Surplus Property Program, the city has leased the building to the current developer who recently completed a rehabilitation project through the Federal Historic Preservation Tax Incentives program. The building now houses 21 loft-style apartments. The majority of the historic wood windows were retained and supplemented with interior storm windows. The historic 3rd floor courtroom was preserved and now serves as a community room. The many surviving Art Deco details and finishes throughout the building were retained and included in the new apartments or public spaces. This is an excellent example of how a partnership between the federal government, city government, and local developers that can work to reuse important civic buildings.

Visit the National Park Service Travel American Aviation to learn more about Aviation related Historic Sites.
Last updated: June 7, 2017