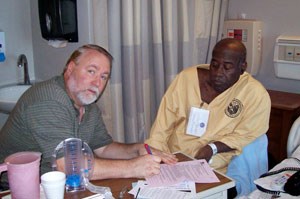 Visiting the National Home for Disabled Volunteer Soldiers branches is different from other tourist destinations because they are still active medical centers managed by the Department of Veterans Affairs (VA). The services offered by the VA have expanded from the time of the National Home for Disabled Volunteer Soldiers to encompass education and training, medical care, compensation and pensions, home loan assistance, insurance, vocational rehabilitation, and burial rights in the National Cemeteries. The National Home branches have been modernized to accommodate the expanded services for veterans.
To help the VA provide the best possible service to veterans and to show veterans that you appreciate their service to the country, volunteer at a National Home branch or at another VA medical center or cemetery. Veterans Affairs medical centers and cemeteries offer a multitude of opportunities for community service, service learning, and civic engagement. Volunteers are "indispensable to providing America's veterans with quality medical care." Nearly 127,000 volunteers in VA's Voluntary Service donated more than 11 million hours in 2008, which equals 5,519 full time employee-equivalent positions.
Individuals, school groups, church groups, students, and businesses are encouraged to volunteer at medical centers and cemeteries. Children are welcome to volunteer at cemeteries, but the age requirement for volunteering at medical centers varies from State to State. Even if children are too young to volunteer at a medical center, they can help in other ways, for example, by participating in historic preservation related activities at the National Home branches, writing letters to veterans, or collecting items to be donated like new toiletry items or magazines. VA facilities also provide service learning opportunities for students. Teachers and others interested in developing service learning activities for students will find helpful suggestions and other information on the
National Park Service's Teaching with Historic Places website.
Possible projects for students include giving guided tours of the historic medical facilities and conducting oral history interviews of veterans.