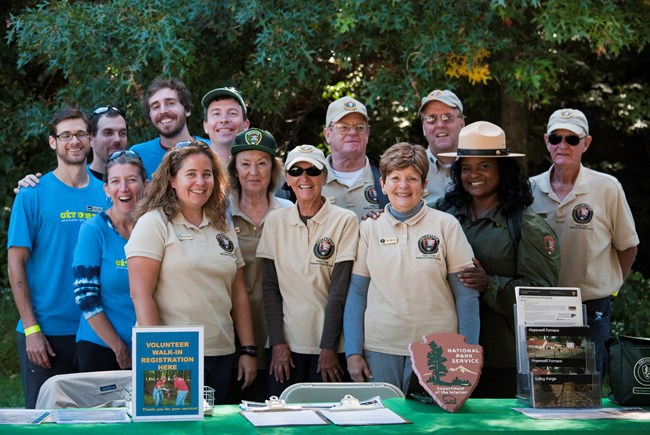 About Ernestine:
Ernestine serves within the Directorate of Interpretation, Education, and Volunteers as the National Volunteer and Youth Program Coordinator located in Washington, DC. She works in collaboration with 14 regional and national program managers to oversee more than 300,000 volunteers who donated over 8 million hours of service in FY2016. Ernestine is the NPS lead for one of the largest youth-development programs in the National Park Service, the Community Volunteer Ambassador Program, formerly known as the Centennial Volunteer Ambassador Program. She provides innovation, planning, implementation, policy development, and accountability management for the national volunteer and youth programs, working with other program areas/divisions and NPS partners. She led the effort in developing the national partnership with the Boy & Girls Clubs of America and assisted in managing the national partnership with YMCA of the USA to engage youth on public lands.
"My military service had a profound impact on my life. When I joined the U.S. Navy, fresh out of high school, it was the first time I was away from everything familiar to me -- home, my family, and friends. I became an adult while serving in the U.S. Navy. I learned how to make independent decisions for myself, accomplished things I didn't think I could do, and had a front row seat to an awesome group of people who had a diversity of leadership styles that left an everlasting impression on me. These people became an extension of my family; they were my mentors and teachers."
"When I joined the military, it was my first introduction to service: service to the nation and not really knowing what that meant but feeling a sense of pride and honor that I was chosen, along with many others who volunteered to give their lives for our country. During my military service, I was stationed on a submarine tender. The submarine tender supplied and repaired nuclear-powered submarines that carried out missions unknown to me but important to our national security. I served as a Machinist Mate stationed in the ship's outside machine shop, then moved to the hydraulic shop, and finally to the quality assurance office. Each one of those experiences prepared me for the next experience. I felt that I grew professionally and found with each of those learning opportunities that I became a better team member and developed great self-awareness about my skills and abilities. I was always willing to take initiative and problem-solve to help accomplish projects. I felt that my military service provided the opportunity for me to explore new places and discover new things about myself that I didn't know before that journey.
Once I was discharged from active duty, I knew that I wanted to continue to educate myself, as that was my intention for joining in the first place. While in school I applied for and was offered a temporary summer job with the National Park Service, working in the Maintenance Division at Independence National Historical Park. The summer job led to a permanent full-time job at Valley Forge National Historical Park in their Maintenance Division. During my tenure at Valley Forge, I worked in Maintenance, Natural Resources, and Administration, the Office of the Superintendent, and Interpretation and Education. Along the way, I've grown to realize that what matters most to me and brings me great joy is service to people. I feel it is our responsibility to invest in our youth, honor and support our seniors, and continue to promote community involvement and engagement. Through this coming together, I believe we can play a role in making our society a better place for all. I am grateful for my military service. It has helped to build the foundation of service, which is my passion."