About James:
Army Staff Sergeant James Pierce proudly served our country to protect the American values, freedoms, and ideals. He is a highly-decorated veteran and Purple Heart recipient after being wounded in the line of duty in 2012. James joined the National Park Service in July 2013, fulfilling his dream of becoming a park ranger. He chooses to honor our nation preserving iconic grounds through his work as volunteer coordinator for the National Mall and Memorial Parks.
The American Veterans Disabled for Life Memorial is under James' purview, where he has the solemn honor to be one of the caretakers of this powerful memorial. When visitors, especially veterans arrive James Pierce might be the one who greets them. Like many wounded veterans, James has chosen to continue to serve his country as a public servant.
Serving my Country through the military has been the biggest reward of my life and having the opportunity to preserve memorials for the men and women that have served in our military is even more rewarding. James Pierce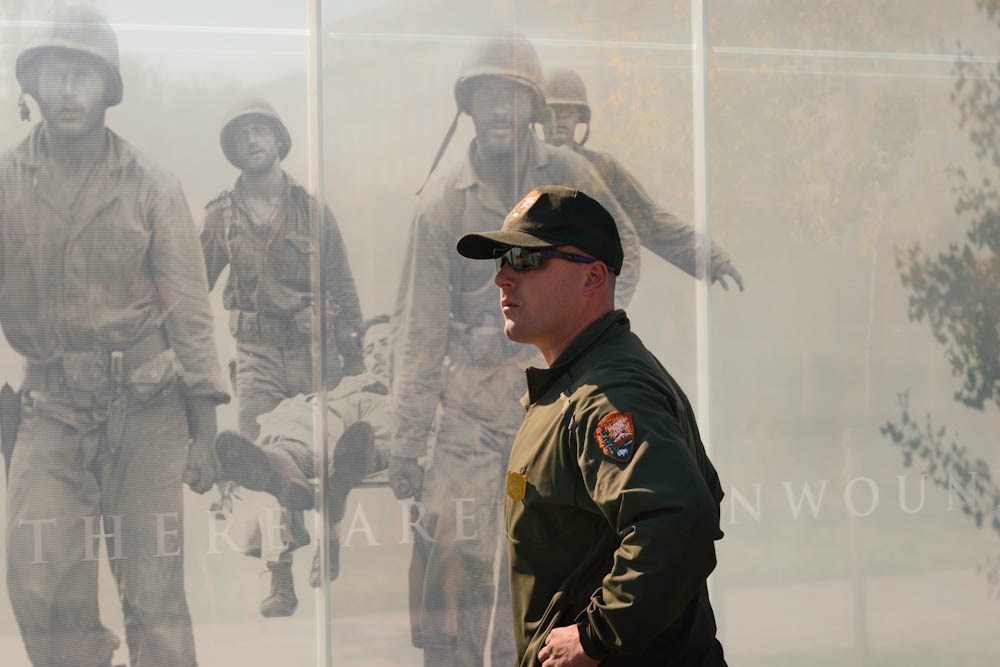 In His Own Words:
"I enlisted in the United States Army National Guard in 2001 and served two tours (Operation Iraqi Freedom - 113th Field Artillery and Operation Enduring Freedom - 514th Military Police Company) and one humanitarian mission (Operation Beyond the Horizon - 211th Military Police Company.) On October 1, 2012, while on foot patrol in the Khost Province of Afghanistan, the 514th Military Police Company out of Winterville, North Carolina, was attacked by a suicide bomber. The attack killed three and injured three additional members of the company. I was one of the three injured members.
Due to the severe injuries sustained during the blast, while focusing on my rehabilitation, I couldn't help but to wonder, what life will I have after my military service? I knew that I wanted to continue my service; I just didn't know how I would be able to continue it. Shortly thereafter, my transitional coordinator told me about Operation Warfighter (Guardian), a Department of Defense internship program that matches qualified wounded, ill, or injured service members with non-funded federal internships. I received a bachelor's degree in Parks and Recreation from Appalachian State University in 2009 and inquired about the possibility of an Operation Warfighter internship with the Department of the Interior and the National Park Service (NPS). It would be a perfect fit where I could use my military skills as well as my college education. For two years, I had the distinct honor to serve my internship as a park ranger at National Mall and Memorial Parks, serving under the Volunteer-In-Parks (VIP) program. Following my medical retirement from the army, I earned a permanent position with the NPS and continue today serving as a park ranger at National Mall and Memorial Parks, working with volunteers. Having a military background has allowed me to hit the ground running, serving as a park ranger. My new mission is to preserve and protect America's natural and cultural heritage for the enjoyment of today's and future generations through the service of volunteering.
I partner-up with various community, universities, private-public sector, and military veterans' organizations and set them up with beautification and cultural volunteering projects and major national events throughout National Mall and Memorial Parks. I take great care of the volunteers, as if they were my brothers and sisters in arms. I am able to manage and prepare for my projects and events from a very analytical standpoint, due to my military background.
While I may have retired my military uniform, I wear my park ranger uniform with pride, as I have the distinguished honor to protect and share our Nation's history."