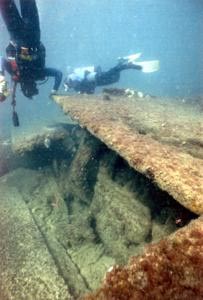 The
USS Massachusetts
is one of the oldest battleships in the Nation. She is 350 feet long and 70 feet wide at the amidships. Two of the battleship's 13-inch cannons rise out of the water. It was built in 1896, along with the
USS Indiana
and
USS Oregon
. These three battleships were members of the "Indiana" class of warships and the first ships constructed for the new "steel" Navy. They were heavily armored, heavy caliber battleships that were obsolete twenty years later due to a design flaw. The Indiana warships were not built with bilge keels, which would prevent the vessels from rolling from side to side. As a result, the Massachusetts was extremely unstable, even in calm seas. If both 13-inch gun tubes were trained abeam at the same time, the ship would heel over, forcing one side underwater.
Though she did not seem much action, the
USS Massachusetts
participated in the Spanish-American War. She fired on the Spanish warship Cristobal Colon and helped sink the cruiser, Reina Mercedes. The ship was decommissioned in 1906, but returned to a reduced commission in 1910 as a practice vessel for midshipmen. During World War I, the
Massachusetts
was used as a gunnery practice ship. In 1919 it was decommissioned for the last time and renamed Coast Battleship No. 2. In 1921, the vessel was sunk in a training exercise by guns at Fort Pickens. Since it was still partially visible from the surface, Navy pilots used the ship for target practice during World War II.
Though the hull was stripped for scrap metal during the 1940s, she is in good shape for being submerged for nearly 100 years. The ship has reached a equilibrium with the environment and is home to a variety of marine life. Well lit by the sun, the
USS Massachusetts
is a popular diving spot. It is located 1.5 nautical miles south-southwest of Pensacola Pass in 26-30 feet of water. The shipwreck is located within the Fort Pickens State Aquatic Preserve, which is adminstered by the Florida Department of Natural Resources. There are special diving restrictions regarding anchoring and diving equipment. The preserve is part of the Florida Underwater Archaeological Preserve an is open to the public year round, free of charge.
Florida's Shipwrecks: 300 Years of Maritime History features a Teaching with Historic Places online lesson plan, The Spanish Treasure Fleets of 1715 and 1733: Disasters Strike at Sea. This lesson plan has been produced by the National Park Service's Teaching with Historic Places program, which offers a series of online classroom-ready lesson plans on registered historic places. To learn more, visit the Teaching with Historic Places home page.
Last updated: September 11, 2017