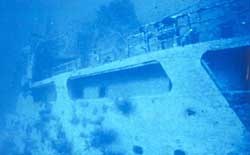 The USCG Cutter
Duane
was built in 1936 at Naval Yard in Philadelphia. The ship is 327 feet long and was one of seven Treasury class cutters. These vessels were all named after Secretaries of the treasury. The
Duane
was third in the series to be built and was named after the 11th Secretary of the Treasury, William J. Duane. Duane served under President Andrew Jackson. The vessel had various assignments before joining the U.S. Atlantic fleet in 1941.
Duane
served with distinction during several important wartime and peacetime missions. On April 17, 1943,
Duane
and sister ship Spencer sank a German U-Boat. The Duane participated in four rescues at sea, picking up a total of 346 survivors. In 1980, she was an escort vessel for thousands of Cuban refugees coming to the United States. The cutter's last assignments included search and rescue work and drug enforcement.
As the oldest active U.S. military vessel, the
Duane
was decommissioned on August 1, 1985, and intentionally sunk for use as an artificial reef in 1987. The ship's hatches were opened and the holds pumped full of water to sink the ship. On a clear day, the outline of
Duane's
intact hull can be seen from above. The mast and crow's next, protruding high above the hull, can be seen at 60 feet below the water line. The navigating bridge is 70 feet, just forward of amidships. The superstructure deck is at 90 feet and the main deck lies at 100 feet. The hull structure is completely intact along with the original rudders, screws, railings, ladders, and ports. The structure is an impressive display.
Duane
offers advanced divers an exciting opportunity to explore an intact sunken ship that hosts an impressive community of marine life.
The USCG Cutter Duane lies upright on a sandy bottom in 125 feet of water one mile south of Molasses Reef off Key Largo. Located in the Florida Keys National Marine Sanctuary, the wreck is marked by two mooring buoys, one on the bow and one on the stern, at 24° 59.388' N and 80° 22.888' W. The ship receives thousands of visitors annually; check with local dive shops for further information.
Florida's Shipwrecks: 300 Years of Maritime History features a Teaching with Historic Places online lesson plan, The Spanish Treasure Fleets of 1715 and 1733: Disasters Strike at Sea. This lesson plan has been produced by the National Park Service's Teaching with Historic Places program, which offers a series of online classroom-ready lesson plans on registered historic places. To learn more, visit the Teaching with Historic Places home page.