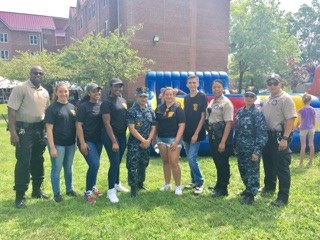 In an effort to become more involved in the communities in which they serve the United States Park Police has opened a new Explorers Post out of its New York Field Office. The primary mission of the Explorer Post is to educate and empower youth by developing their interest in law enforcement and providing positive experiences for teenagers through community involvement and elementary law enforcement training.
The goal of the Explorers program is to teach young adults the value of responsibility and leadership skills by promoting cooperation through group development. "We want to provide youth with the opportunity to be challenged, to grow, receive recognition, and thrive within our organization," said U.S. Park Police Chief, Robert D. Maclean. "It's extremely important that we become more engaged in the communities we serve through programs like the Explorers."
Several U.S. Park Police Officers have volunteered to become youth mentors and have formed the core of the New York Explorers Post start-up effort. The Officers have participated in recruitment efforts, including conducting two community open houses to gauge interest in the program. The first meeting was held in March, and since then, seven students have entered the program, and the effort has been officially named Explorers Post #1919.
During the summer, students took part in meetings and held two community events. They participated in a park clean up at Blue Heron Park Nature Center and helped the U.S. Coast Guard with their 227th Anniversary Event held at Fort Wadsworth. The students commented that the events were fun and gave them a chance to give back to the community.
Explorer Post #1919 will begin its first full academic program year this September. A first-year priority of the program is to prepare the students for the National Explorer Competition. Benefits of the program include attendance at Leadership seminars and conferences. Explorer Club members can also compete for college scholarships provided by businesses that partner with the National Explorers Program.
Students between the ages of 14 and 21 wishing to join the program or to learn more about it are encouraged to contact Sergeant Lashaun Beckett via email at lashan_beckett@nps.gov