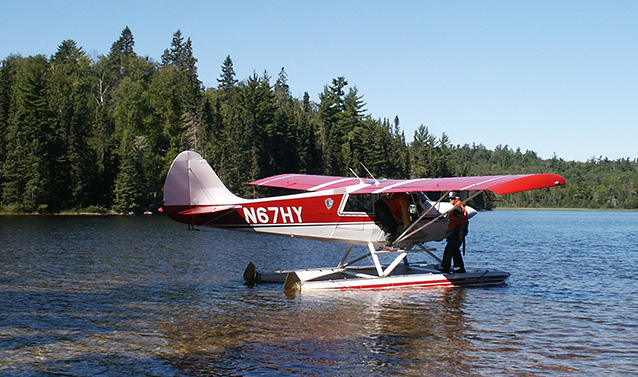 Aviation Management
Aviation Management in the National Park Service covers a wide range of programs and disciplines. Expertise in aircraft capabilities and limitations, management of large aviation programs, instruction of specialized aviation training, and hands-on operational and logistical support of aircraft use are just a few of the skills needed to support aviation use in the National Park Service.
Aviation Jobs with the National Park Service
The NPS has approximately 16,000 permanent employees and hires up to 10,000 temporary and seasonal employees each year. The National Park Service fills jobs in many fields, including interpretation, maintenance, administration, resources management, education, dispatch communications, and law enforcement.
Entry and/or seasonal positions using aviation include park rangers in law enforcement, EMS, search and rescue, "ologists" (e.g., biologists, hydrologists, archaeologists, etc.) in natural resource-based work, and wildland/prescribed fire jobs, such as helitack crew members.
Seasonal Positions (can also be full-time)
So you really want to work for the NPS? Many people have started their aviation-related careers in other agencies before migrating to work for the NPS. Their skills and experiences have proven invaluable to NPS programs. Experience gained in the private and military sector would be applicable to NPS positions.
Park Ranger
Rangers can have a variety of specializations, including K-9 handler, intelligence officer, rescue specialist, firefighter, and medic. Some parks have boats, aircraft, and horses, all of which require special skills to operate or work around.
Helitack Crew
Crew members serve as firefighters on a highly mobile aerially delivered team that uses helicopters to rapidly respond to wildfires in varied terrain and fuels. NPS helitack crews are also often trained in short-haul (a method of removing personnel from a remote location via suspension under a helicopter on a long rope) techniques to support search and rescue (SAR) missions. Rappelling from helicopters is another tool used to support many missions, including both SAR and wildland fire.
Natural Resources
Technical work in any of the fields of science concerned with living organisms, their distribution, characteristics, life processes, and adaptations and relations to the environment may include aircraft use.
Dispatcher
Duties can vary from park to park, but an aircraft dispatcher is responsible for tracking all aviation resources assigned to park incidents. Besides fire, this includes SAR operations and any special incidents, such as presidential visits, large law enforcement operations, and special events. A dispatcher is also responsible for flight following with aircraft in the park. This consists of maintaining regular check-ins and locations of the numerous research flights, the contract helicopter, SAR aircraft, and project aircraft.
Flight Managers
The NPS hires helicopter managers and air tanker base managers.
Full-time Positions
Pilots
The National Park Service has flight operations with permanent NPS pilots in fifteen of its larger park areas in the Lower 48 and Alaska. These pilots primarily provide transportation of personnel and equipment at parks with very active aviation programs. Flight operations occupy the majority of the incumbent's time, though additional duties may occur. The second group of NPS pilots serves a dual function. These are law enforcement (LE) pilots, who use an aircraft as a flying patrol vehicle, and biologist pilots, who use aircraft for aerial survey work.
To be an NPS pilot, first you must be certified by the Federal Aviation Administration (Become a Pilot). Then, a pilot must meet minimum Department of the Interior qualifications before becoming a pilot (Aircraft Pilot Positions) with the National Park Service. For current NPS employees with piloting experience, there may be opportunities for pilot training (OPM-22).
Aviation Manager
An aviation manager provides effective technical assistance, support, and advice regarding NPS aviation management, program policies, and safety concerns, procedures, and options to park personnel, park superintendents, and regional office staff. These include such positions as unit aviation officers, regional and national aviation program managers and helicopter and fixed-wing specialists.
Additionally, there are many jobs within the National Park Service, both seasonal and full-time permanent, that have elements of aviation within them. For example, a seasonal employee may need to be trained as an "aircrew member" to fly aboard airplane to reach a field research station. The Interagency Aviation Training Guide provides various aviation position descriptions and the training modules that are required. Another example is NPS employees engaged in all-hazard incidents that use aviation.
In the early 1980s, the National Park Service began using the Incident Command System (ICS) to manage fires. Subsequently, many parks began using ICS to manage other types of incidents. Since the 1990s, the National Park Service has been a nationwide leader in the use of the ICS for all-hazard applications—hurricane recovery operations, law enforcement incidents, special events, and many other complex tasks requiring resources beyond those normally available to local managers.
The NPS incident command program has evolved to include all-hazard ICS training and qualifications for employees in any career field. Many of these all-hazard positions mirror wildland fire positions and training. The National Wildfire Coordinating Group (NWCG) provides a formalized system of agreed-upon standards of training, equipment, qualifications, and other operational functions. Learn more about the training and qualifications needed for aviation positions within the Wildland Fire Qualification System.
Last updated: November 11, 2016