Air(wo)man Discovered and Honored
Did you know that the Tuskegee Airmen included women? Sergeant Amelia Jones worked for two years during World War II in the 99th Pursuit Squadron under Colonel Benjamin O. Davis, commander of the Tuskegee Airmen. She was honored for her service in 2014.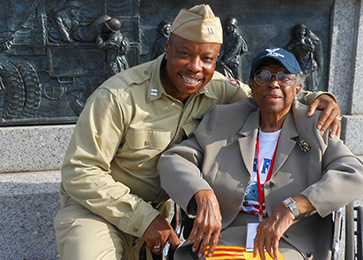 You may have never heard her name before, but her story is another chapter in the distinguished history of Tuskegee Airmen.
On September 6, 2014, the National Mall and Memorial Parks held a "Living History Meets Honor Flight" interpretive program at the World War II Memorial. During this event, Jones, who was visiting the memorial as part of Honor Flight Savannah, noticed that some participants were dressed in Tuskegee Airmen uniforms. She proudly told them she had worked for two years during the war in the 99th Pursuit Squadron under then Colonel Benjamin O. Davis, commander of the Tuskegee Airmen.
Sergeant Jones was born on Daufuskie Island, South Carolina, in 1919 and enlisted in the Women's Army Auxiliary Corps at the Kentucky-based Hunter Army Airfield in 1943.
On October 25, 2014, Sergeant Jones received the coveted Tuskegee Airmen red jacket to recognize her service during World War II. The South Carolina native received this honor at the Mighty Eighth Air Force Museum in Pooler, Georgia.
The official story of the Tuskegee Airmen began in 1939 when President Franklin Roosevelt authorized the Civilian Pilot Training Program (CPTP). The CPTP was a nationwide program designed to allow college-aged students to acquire pilot training. In 1941, President Roosevelt also authorized the CPTP to accept African American students who would train at historically black colleges and institutions.

With the expansion of the CPTP, five historically black colleges, including Tuskegee Institute in Alabama, began an elementary flight training program, then a secondary flight instruction program. In January 1941, the 99th Pursuit Squadron fighter group was authorized and served as the first flying squadron for African Americans. The squadron became known as the Tuskegee Airmen.
The 100th, 301st, and 302nd fighter groups were authorized later. These groups required ground personnel, mechanics, administrative, and other personnel to support flight training, all of whom are considered to be part of the Tuskegee Airmen experiment.
Jones, now an Honor Flight veteran, joined the 99th Squadron as support personnel. National Mall interpreter John McCaskill, who in conversation with Jones recognized her standing as a Tuskegee Airman, assisted her in obtaining official public recognition for her service. At the conclusion of the living history program, other veterans, Honor Flight guardians, and even several female soon-to-be U.S. Navy chief petty officers had also heard Jones's story and were eager to meet her and offer their gratitude for her service.
Last updated: April 7, 2022