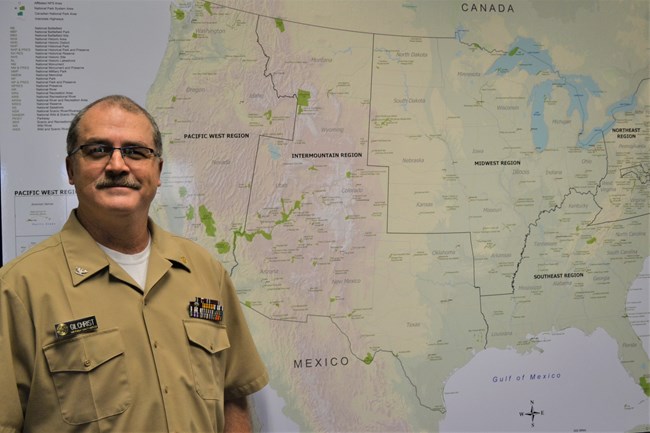 Tell me about the most challenging engineering project you have been involved with in the recent past.
One of the most challenging projects I am currently working on involves the replacement of two 50-year old water pumps with the rehabilitation of the associated pumphouse structure at the Indian Garden developed area in the Grand Canyon. This facility is located 3,000 feet below the South Rim requiring all material and equipment to be flown in and out by helicopter, while personnel are required to hike five-miles down to the project site and back out.
In addition, as a historic structure, the removal of existing and the installation of new pumping equipment has to be through the existing doorways of the pumhouse with minimal modification allowed. This necessitates moving and placing the large 15,000 pound pumps into the structure by hand. Working with the contractor to develop a method of "rolling" this equipment in and out of the pumphouse is one of the biggest engineering challenges on this project.
Another difficult aspect to this project is the need to maintain pumping operations during all of the work because this pumping system is the critical link providing potable water to all of the South Rim. These challenges combined with the fact that this work is taking place in a remote part of the country while being located down in the canyon has made this project one of the most challenging and rewarding projects I have worked.
What checks and balances do you use to make sure your project meets Park Service's needs while staying within available funding and specified time frames?
I have learned the best way to ensure what we are designing and building meets the Service's needs, is to listen closely to what the customer wants. Day-to-day, this means working closely with park staff. While this sounds so elementary and straight forward and not something to be worth mentioning, I find that it is when the perspectives of all personnel involved may not be heard, the scope of the project veers off target.
The other part of this challenge is to manage the project's goals in a manner that meets the budgeted constraints both time and funding. Managing each project so that is meets everyone's needs, while completing it on time and within budget requires nearly constant attention. This combined set of skills is required to keep everything moving together towards a successful end state.
What are you doing to stay current with the latest technology?
A large part of keeping current lies in developing the best technical solutions for the projects. Due to the great variety of projects in a diverse terrain, I have to keep current on new methods and materials in order to ensure the finished results meet the Park Service's goals for resilience, sustainability, accessibility, as well as the overall compatibility with the NPS mission.
What does a typical day look like for you?
While my overall work schedule throughout the year swings between being heavily involved in the design of projects to being immersed in the middle of managing construction, the hectic pace of day-to-day activities is strikingly similar. With multiple projects being managed at any given moment, one learns very quickly to continuously work on each project to ensure all are moving forward. This includes conducting progress and status meetings, negotiating contract awards and modifications, reviewing design submissions, meeting with park and design personnel, and performing lots of communication.
Because of all the moving pieces, the ability to prioritize while keeping a focus on the big picture has been critical to success.
What do you enjoy most about your job as an engineer?
The opportunities and challenges that are integral to the work of turning a concept into the built infrastructure needed to allow NPS meet its mission. Working at the interface of a park's requirements and all of the competing requirements is something that I enjoy working through on each project.
What year were you selected as DOI's Engineer of the Year?
I was selected as DOI's Engineer of the Year in 2011. It was a great honor to have been so recognized and it is something of which I am immensely proud.
Anything else you'd like to add?
My career as a US Public Health Service Engineer Officer has had several very different emphasis over time. From designing and constructing water and wastewater systems in remote Indian reservations, to building healthcare facilities overseas, to improving the visitor's experience to our National Parks, each facet of my professional life has had its own challenges and rewards. Looking at all the opportunities I have participated in to improve others' lives, I would not have made any different career choice.