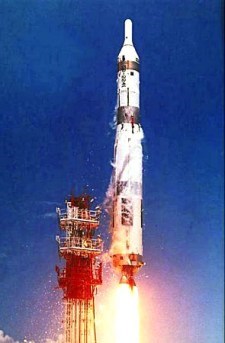 The Titan program began development in 1955 as a back up option in case the Atlas program failed. It would become the second Intercontinental Ballistic Missile (ICBM) deployed by the U.S. Air Force. Also a liquid fueled giant, the Titan was the first multi-stage ICBM put on operational alert.
Based within super-hardened silos, deep beneath the ground, the Titan's concrete and steel reinforced facilities were able to withstand the massive pressure of a nuclear blast. This gave it a survivability from nuclear attack, that the Atlas lacked.
The first successful test of a Titan took place in January of 1960. A little over two years later, the first Titan I's became operational, based out of Lowry Air Force Base in Denver, Colorado in April 1962.
The Titan was the largest ICBM ever deployed. The Titan held a nine megaton nuclear warhead, making it the most powerful single nuclear weapon in American history. Titans were finally retired in the mid-1980's due to their high cost and a series of accidents.