Timeline of Aviation History
The Dream of Flight
Dream of flight brought Wilbur and Orville Wright to Kitty Hawk, North Carolina where, after four years of experimentation, they became the first people to fly a heavier than air, power controlled machine, known as the Wright Flyer. What they achieved changed our world forever. National Aviation Day was created in 1939 by presidential proclamation to commemorate this event and the men that made it happen.
Aviation "Firsts" Commemorated in National Parks
Big Bend National Park, Texas
March 11, 1916 — First United States combat use of a powered aircraft
Canaveral National Seashore, Florida
Home to the United States' space port
Chaco Culture National Historical Park, New Mexico
1928 — First aerial archaeological survey in the nation
Craters of the Moon National Monument, Idaho
Training ground for astronauts going to the moon
Dayton Aviation Heritage National Historical Park, Ohio
Sept 15, 1904 — First turn by a powered aircraft
Sept 20, 1904 — First circle flown by an airplane
1910 to 1916 — First permanent flight school
May 25, 1910 — Only time the Wright brothers flew together
Nov 7, 1910 — First cargo flight (Dayton to Columbus Ohio)
Eisenhower National Historic Site, Pennsylvania
1936 — First U.S. President to obtain a pilot's license
1956 — First U.S. President to fly in a jet powered aircraft
1957 — First U.S. President to fly in a helicopter
Fort Vancouver National Historic Site, Washington
1937 — First 'over the North Pole' flight by a Russian
Gateway National Recreation Area, New York and New Jersey
Home to Floyd Bennett Field
July, 1933 — World record flight around the world by Wiley Post
Site of flight records including flights across the U.S.
Golden Gate National Recreation Area, California
1917 — First aerial wildland fire detection patrols
1919 — Launch site of the first transcontinental air race
1924 — Landing site of the first "dawn to dusk" transcontinental flight
1927 — Site of the first non-stop flight to Hawaii
1953 to 1979 — Only preserved Nike missile site
Grand Canyon National Park, Arizona
Feb 24, 1919 — First flight over the Grand Canyon
Fall 1923 — First use of an airplane in search and rescue
Hawaii Volcanoes National Park, Hawaii
Oct 28, 1928 — First airplane to land in a volcano
Independence National Historical Park, Pennsylvania
1793 — First airmail sent by a U.S. President. (By George Washington via a hot air balloon.)
Indiana Dunes National Lakeshore, Indiana
1896 — Flight testing of gliders by Octave Chanute
Minuteman Missile National Historic Site, South Dakota
1963 — Preserved Delta-01 missile launch complex
1963 — Preserved Delta-09 missile silo complex
National Capitol Parks, Washington, D.C.
1918 — First large scale aerial photo mosaic series
Tuskegee Airmen National Historic Site, Alabama
1943 to 1945 — Only fighter group to never lose a bomber under its protection
World War II Valor in the Pacific National Monument, Hawaii
1940 to 1945 — Use and effect of aircraft in war
Wright Brothers National Memorial, North Carolina
1901 to 1902 — Records for longest glider flights
1902 — First flight of a fully controllable glider
Dec 17, 1903 — First powered, heavier than air, human controlled flight
1911 — Gliding records set by Orville Wright
Landmarks of Flight
Since the advent of flight, there were people who considered aviation for all of its possibilities. On the blank canvas of aviation, pilots aggressively pursued the "firsts" and breaking records. The use of aviation by the military accelerated flying skills and the creation of new technology.
In 1903 the Wright brothers take the world's first powered flight, 1924 sees the first flight around the world and the first helicopter flight, 1937 the Hindenburg zeppelin burns, 1940 the first smokejumpers jump, 1946 the first helicopter is used to fight wildfire, 1947 Colonel Chuck Yeager breaks the sound barrier, in 1955 the first operational air tanker dropped water on the Mendenhall Fire, 1959 when NASA chooses its first 7 astronauts and 1969 when 2 of them became the first to walk on the moon, Redmond, OR. smokejumpers were actually the first rappellers in wildland firefighting in 1972, 1986 the loss of the Challenger Space shuttle, then the Columbia Shuttle in 2003 the same year as aviation celebrated her first century.
Each landmark built on the successes and failures of each flight before, all of which were lessons learned the hard way, made by people that would push themselves and their aircraft to and past their capabilities.
First Helicopter Civilian Rescue: November 29, 1945
If a man is in need of rescue, an airplane can come in and throw flowers on him, and that's just about all. But a direct lift aircraft could come in and save his life.
— Helicopter pioneer Igor Sikorsky
It was over half a century ago, the last week of November, 1945, and the East Coast of the United States was besieged by a violent storm of rain and snow and exceptionally high tides, all whipped into a frenzy by near-hurricane-force winds.
Near Fairfield, Connecticut, on a bleak and wind-tortured reef in Long Island Sound, something wonderful happened.
Two men stranded on an oil barge and in danger of being washed overboard were lifted to safety by a hoist on a Sikorsky helicopter. On that day—Thursday, November 29, 1945—the helicopter entered a new and promising age. Read the entire First Civilian Rescue story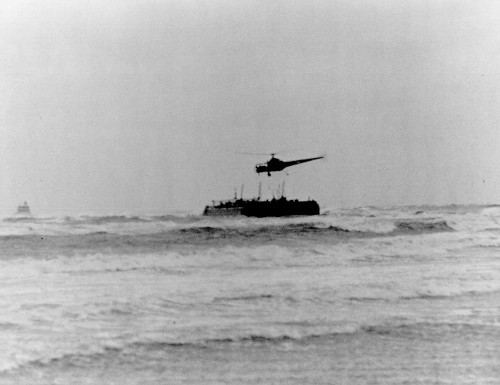 Last updated: November 18, 2016