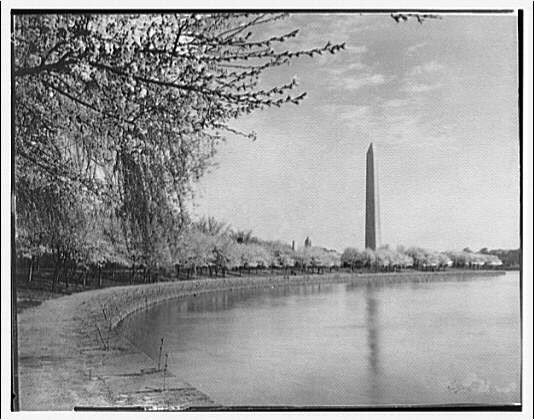 The American public's infuriated response to Japan's surprise attack at Pearl Harbor on December 7, 1941, took many forms. Military recruiting offices were swamped with young volunteers. Other people went to work in the war factories. There were also mistakes as well, such as the internment of Japanese-Americans, and misplaced anger at simply anything from Japan.
An example of the latter was the destruction of four cherry trees around the Tidal Basin in downtown Washington, DC. The trees had originally been given to the United States as a good will gesture, and during each spring since 1935 there had been a Cherry Blossom Festival to celebrate the brief blooming of the trees. On the night of December 10, 1941, an unknown number of vandals cut down four of the trees on the west side of the Basin. Two of the trees were original 1912 specimens. One tree was also marked with "To Hell With the Japanese."
The then superintendent of National Capital Parks, Irving C. Root, said it must have been done by "misguided individuals, probably youths." He also asked the public to help guard the trees against further assaults. Park Police decided the trees had probably been cut down after midnight, when the basin lights had been turned off.
The reaction against things Japanese took other equally misguided forms. From 1942 to 1947, for instance, there was no Cherry Blossom Festival. Many people insisted on re-naming the trees as "Oriental" Cherry Trees. Customers complained if stores carried Japanese merchandise. The Freer Gallery of Art hid away all its Japanese works of art.
After Japan's defeat in 1945, the United States and Japan gradually became friends again, and nowadays the National Cherry Blossom Festival is a major annual event. There has been no further vandalism to the trees, except from the occasional beaver.