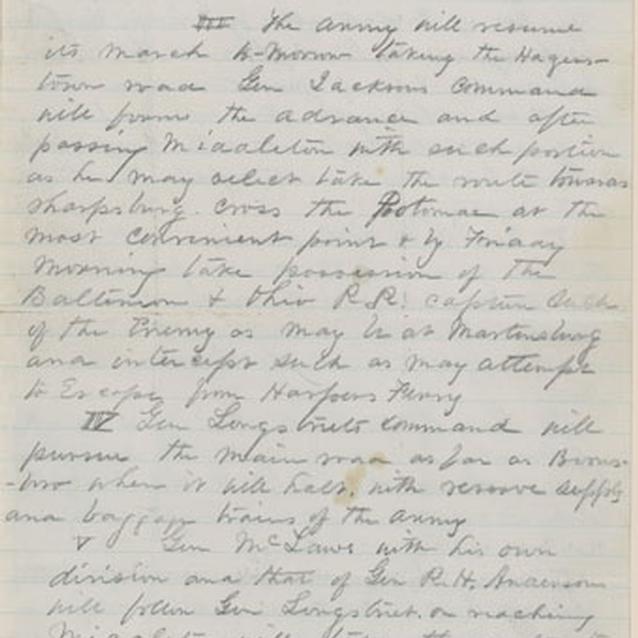 Jackson was to go back across the Potomac, capture Union forces at Martinsburg, Virginia, and cut off the escape of the Federal garrison at Harpers Ferry, Virginia. Gen. Lafayette McLaws was to take Maryland Heights, then capture any Federals fleeing from Harpers Ferry. Gen. John G. Walker was to take possession of Loudoun Heights, then assist McLaws and Jackson to capture any fleeing Federals.

While the three Confederate columns closed around Harpers Ferry, Gen. James Longstreet was sent to Boonsboro, Maryland with the reserve and Gen. James Ewell Brown "Jeb" Stuart's cavalry was to detach a squadron of cavalry to screen the route of the army and bring up stragglers. Gen. D.H. Hill was to form the rear guard of the army as they left Frederick. After finishing their tasks, the army was to reunite in either Boonsboro or Hagerstown.

Chilton initially made seven copies of the original orders for Jackson, Longstreet, Walker, Stuart, McLaws, Taylor, and a file copy to Confederate President Jefferson Davis. When the orders were written, D.H. Hill fell under the command of Jackson. As such, he received his orders directly from Jackson. Special Orders 191, however, defined Hill's new role as an independent commander and Chilton took it upon himself to pencil Hill a copy as well. Hill was sent the orders from Jackson, which he kept, and from Chilton, which he said never made it to his camp.

On September 10th, the plan went into motion and the Confederates moved out of the Frederick area. However, Lee was leaving behind more than the town and its people. Somewhere in a field, waiting for the Union Army, was a key to disaster: an envelope containing a copy of Special Orders 191.