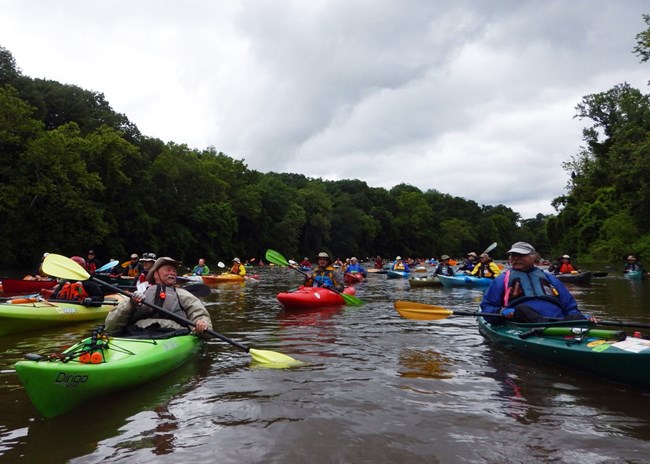 In early June, 2017, the Schuylkill River Heritage Area hosted its 19th annual Schuylkill River Sojourn. Organized around the theme "I Protect the Schuylkill River," this year's Sojourn drew 220 paddlers from 12 states, 70 of which completed the entire 112-mile journey from Schuylkill Haven to Philadelphia's Boathouse Row. Throughout the Sojourn, paddlers experience noon and evening programs aligned with the watershed preservation theme at stops in historic river towns, trailheads and riverfront parks along the Schuylkill River Trail.
The Schuylkill River Heritage Area is a state and national heritage area (NHA) managed by the Schuylkill River Greenway Association(SRGA) which connects five counties and four National Park Service (NPS) park sites along the river: Hopewell Furnace National Historic Site, Valley Forge National Historical Park and Independence National Historical Park. The NPS has provided support and assistance since before the area was designated as a national heritage area.
This year's theme is a nod to the longstanding mission of the heritage area to connect and preserve the Schuylkill River while promoting environmental stewardship. The SRGA has been focused on environmental restoration and encouraging recreation since its formation in 1974, and serves as the management entity of the NHA. In 1999, the SRGA founded the Sojourn in response to the Schuylkill River's designation as River of the Year by the PA Department of Conservation and Natural Resources, which remains a managing partner.