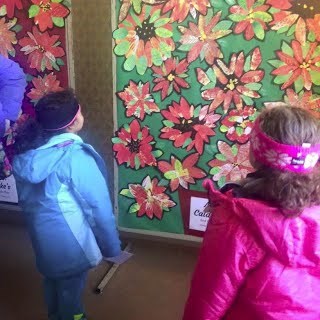 1. New narratives entice new audiences. In 2015 the site put a new spin on its annual celebration of Van Buren's birthday, linking his administration to a traditional Mexican Christmas folktale about the origins of a popular flower, Flor de Noche Buena. Some 20 families who had never visited the park before attended the program which offered a forum for visitors old and new to share holiday stories and traditions.

2. Partnerships create strong connections to NPS resources. The historic site's colorful celebration originally blossomed from a program in local schools. Students read, in English and Spanish, the Mexican folktale of a girl who decorates a church altar with weeds that turn into red blossoms on Christmas Eve.

3. Combining the perspectives of different disciplines and cultures enhances history. The program brought together art, history, and folklore to encourage students to learn through play. After reading the folktale and the history behind it, they created works of art in honor of Mexican culture and traditions.

4. Maintain momentum. A school activity provided the basis for an engaging public program that showcased creativity and honored the community's diverse voices. With this energy, the event inspired families to discover a new park and a new story.

5. Memorialization keeps stories alive and germane to contemporary audiences. The park took care to distinguish how Mexican folklore memorialized the poinsettia well before the flower's eventual association with Secretary Poinsett. Both narratives now stand together in a colorful harmony between cultures.
Back to the History Discover Events Gallery
Back to the Series: Best Practices for History Lessons and History Discovery Events.