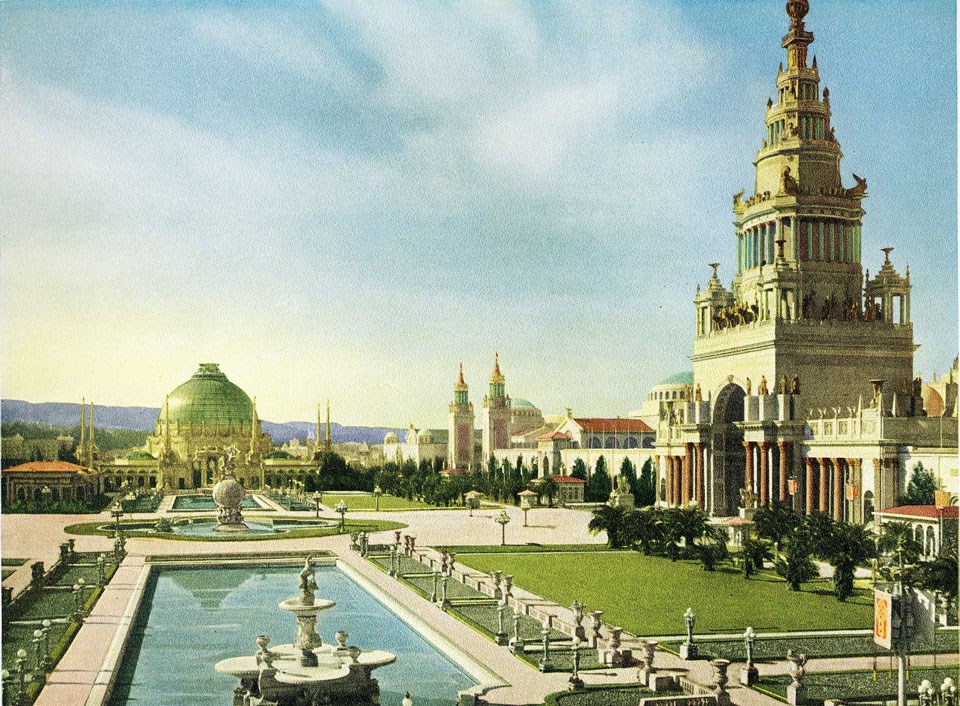 In 1915, San Francisco hosted the world's fair called the Panama Pacific International Exposition.

The vast fair, which covered over 600 acres and stretched along two and a half miles of water front property, highlighted San Francisco's grandeur and celebrated a great American achievement: the successful completion of the Panama Canal. Nine years earlier, San Francisco experienced a terrible earthquake, declared one of America's worst national disasters. The city overcame great challenges to rebuild and by the time the Exposition opened in 1915, the city was ready to welcome the world.

Between February and December 1915, over 18 million people visited the fair; strolling down wide boulevards, attending scientific and educational presentations, "travelling" to international pavilions and enjoying thrilling displays of sports, racing, music and art. The fair promoted technological and motor advancements: the Panama-Pacific International Exposition was the first world's fair to demonstrate a transcontinental telephone call, to promote wireless telegraphy and to endorse the use of the automobile. Each day, the fair highlighted special events and exhibits, each with their own popular souvenirs. The fair was so large and spread out over such a length of land that it was virtually impossible for any visitors to successfully see it all, even over the course of several visits.

One hundred years later, the Exposition's legacy is still evident in San Francisco. A few of the city's buildings were either rebuilt or designed in the style of the Exposition, like the Marina's Palace of Fine Arts or Lands Ends' Legion of Honor. The fair's location and design also required significant landscape changes, including the filling-in of acres of waterfront marshland. Today, the Marina Green and Crissy Field, two of the city's most popular recreational open spaces, are products of these landscape changes.