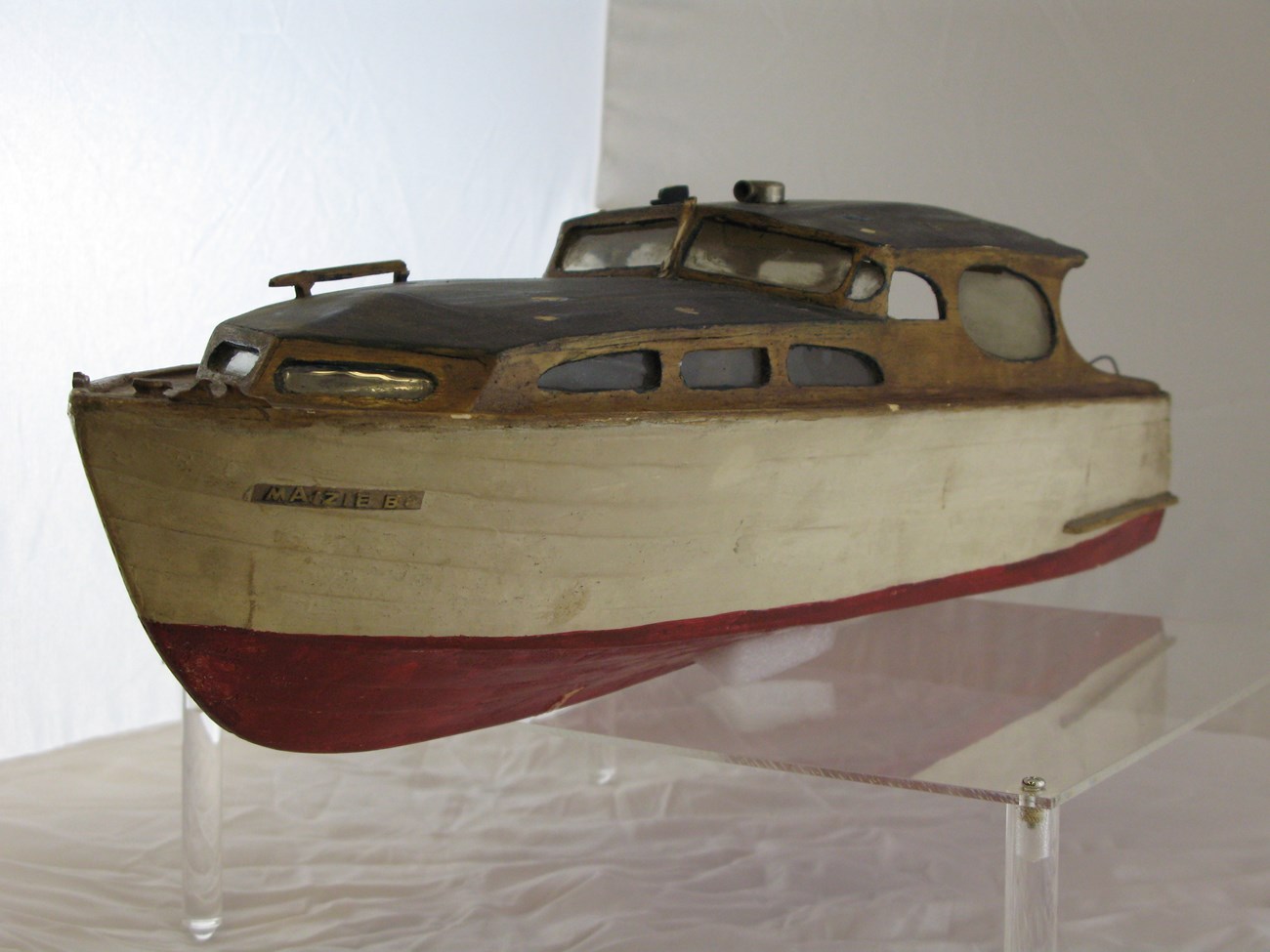 This two foot long, intricately detailed model boat was built by Dr. Elmer Bly while he was living on the shores of Lake Clark in the late 1940s or early 1950s. He named the beautiful craft the "Maizie B" after his beloved wife, May "Maizie" Bly.
Elmer and Maizie met in Wisconsin and married in 1916. They moved to Alaska from the Midwest in the mid-1940s and owned dental practices in Cordova, Dillingham, and Anchorage. Elmer met Lake Clark resident Babe Alsworth while they were both in Dillingham after WWII. The two men hatched a plan—Elmer would move his dental practice from Dillingham to Lake Clark and Babe would fly patients to Doc Bly for dental work. Doc Bly was convinced—he would be able to run a dental practice and still have time for his passions of hunting and fishing—so he filed on land on what is today known today as "The Point" in Hardenburg Bay. Between 1947 and 1951, he built his and Maizie's residence—this was one of the first houses built in the area. For a variety of reasons, the fly-in dental practice didn't work out. Dr. Bly saw patients in the Alsworth's house and after own his house was complete, in one of the rooms of his residence. However, it was not enough to sustain a practice, and the Bly's stay in Port Alsworth ended up more recreational than professional.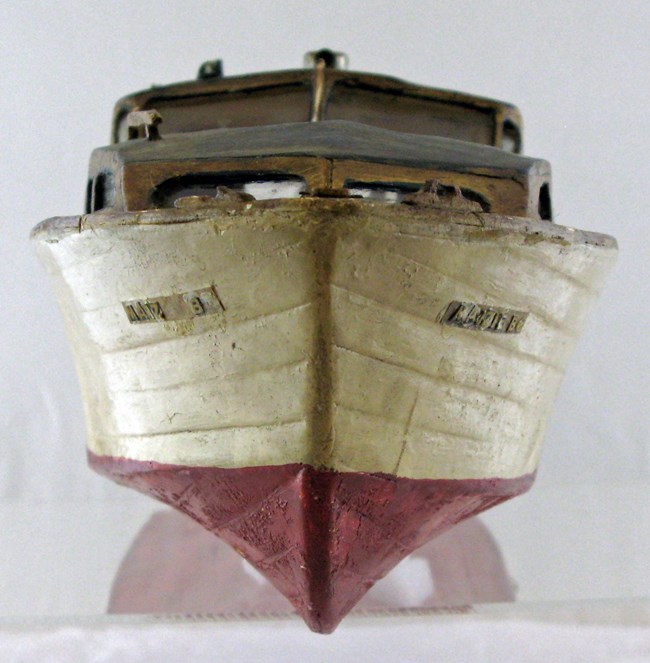 An Exceptional Carpenter
Elmer was an excellent hobby woodworker and carpenter, and designed the house he built in Port Alsworth. He made all the cupboards in his house on Lake Clark using the 10 gallon wooden gas boxes that were so prevalent during that time—a common practice in bush Alaska—the resulting furniture was commonly called "Alaskan Chippendale." He also built dressers, bureaus, wooden boats, flower pots, and other trinkets and knick knacks out of wood during his stay in Lake Clark. His daughter, when speaking of her father's carpentry skills, said one of his favorite sayings was "fit to a frog's eyebrow." This expertly detailed boat is evidence of that. While some original parts such as the sails and a lifeboat are missing, the care and high quality workmanship are obvious. Details such as the structure of the interior cabin, the bow rails, the windows—complete with windowpanes, the hooks off the back of the boat, the cleats, and the life preserver with a tiny "Maizie B" inscribed on it all showcase Doc Bly's significant talent and attention to detail.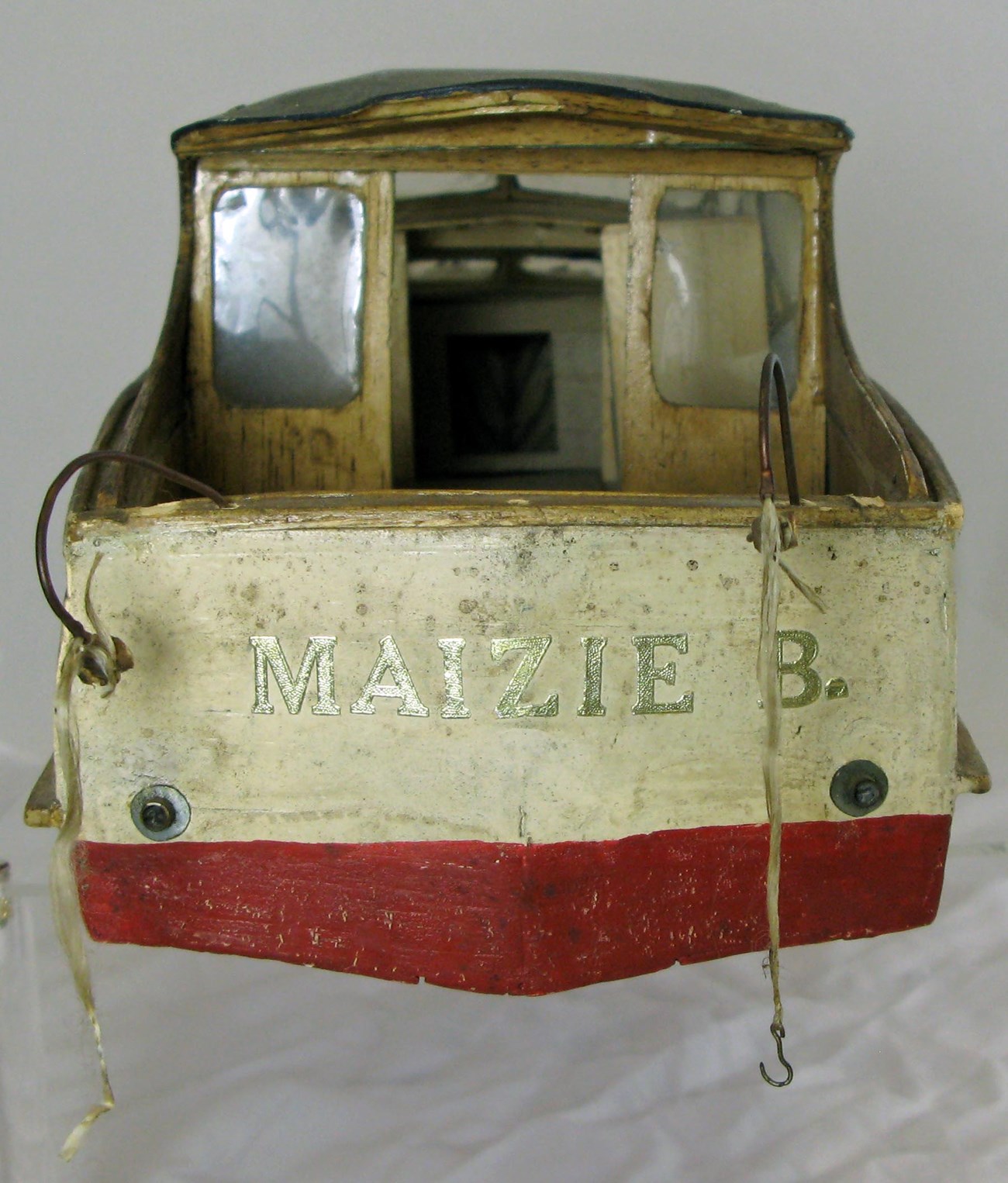 Elmer retired and the couple left Alaska in 1954. In 1957, Elmer sold the house on Lake Clark to Allen Woodward, who collected this boat from the house. Woodward sold the Bly house to the National Park Service while it was still a National Monument in 1979. Allen donated this model boat to the National Park Service in January of 2011.