Article
The First Woman To Run For President: Victoria Woodhull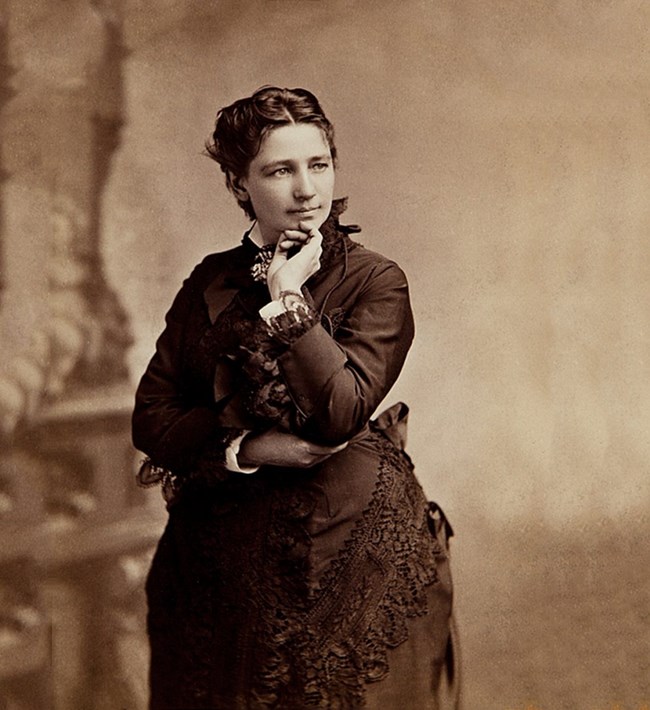 Victoria Claflin Woodhull was one of the 19th century's most colorful characters. She was a women's rights and suffrage advocate, a popular public speaker, a newspaper publisher who introduced American audiences to the works of Karl Marx, the first woman to operate a Wall Street brokerage firm, and the first female presidential candidate in 1872.
Born into poverty in rural Ohio, Victoria married the 28-year-old Dr. Canning Woodhull when she was only 15. Victoria soon found out, however, that her husband was a hopeless drunkard who spent his free time in taverns and brothels. Her husband's freewheeling ways meant that Victoria was required to work outside the home. For several years she worked several jobs as a cigar store clerk, a seamstress, a stage actress, and as a spiritual medium. After her divorce from Dr. Woodhull, Victoria began her association with the Free Love movement, which sought to erase the stigma of divorce and make it easier for women to escape abusive marriages.
Victoria resettled in New York and married Civil War veteran Colonel James Blood. Blood was a St. Louis native who commanded the Sixth Missouri Volunteers during the Civil War. Victoria and her sister Tennie continued their work as healers, becoming acquainted with railroad tycoon Cornelius Vanderbilt. Victoria and Tennie were able to capitalize on their relationship with Vanderbilt to make a fortune, acting on tips from the tycoon to build a fund of almost $700,000 within six weeks. In February 1870, they opened the brokerage firm of Woodhull, Claflin, and Company, making them the first women to operate a brokerage firm on Wall Street. The two were billed in the press as "the Bewitching Brokers" and the "Queens of Finance." Victoria set her sights set on greater ambitions, however. To her, the opening of the brokerage firm was a means to build a bigger stage where she could advocate for women's rights, laborers, and the poor.
Using funds obtained from their brokerage firm, Victoria and Tennie began publishing Woodhull and Claflin's Weekly, a newspaper that promoted the Free Love movement, women's suffrage, and political reform. In December 1871, the paper published the first English-language account of Karl Marx's The Communist Manifesto. The paper also caused a stir when it published an account of an affair between Henry Ward Beecher, the brother of Uncle Tom's Cabin author Harriet Beecher Stowe and one of the most famous religious leaders in the country, and one of his female parishioners. By publishing such a story, Victoria made powerful enemies in the Beecher family and was temporarily jailed for obscenity.
In January 1871, the National Women's Suffrage Association convention was held in Washington, DC. While Victoria planned to attend, she had been communicating with Massachusetts congressmen Benjamin Butler about women's votes and the recent defeat of the Sixteenth Amendment, which would have guaranteed female suffrage. Butler was one of the amendment's few supporters and offered Woodhull the chance to address the House Judiciary Committee. She jumped on the chance, becoming the first woman to directly address a congressional committee. She argued women already had the right to vote thanks to the Fourteenth and Fifteenth Amendments, but Congress should immediately take another vote on the proposed Sixteenth Amendment to fully guarantee women's voting rights. While she was ultimately unsuccessful, Victoria impressed suffrage leaders such as Susan B. Anthony and Elizabeth Cady Stanton with her passion for the cause.
At the height of her fame, Victoria mounted a presidential campaign against Ulysses S. Grant (Republican) and Horace Greely (Liberal Republican) after being nominated by the Equal Rights Party. The famous abolitionist Frederick Douglass was nominated as her running mate, although he never accepted the nomination nor acknowledged the campaign. Victoria's campaign platforms included universal gender and racial equality under the law, civil service and taxation reform, and opposition to land grants given to railroads and other corporations. Even though she had not yet reached the Constitutionally mandated age of 35 to serve as President, Victoria Woodhull is still regarded as the first female presidential candidate.
While the campaign was never taken seriously in mainstream circles, it was further hampered by Victoria's involvement in publishing the details of the Beecher scandal. She would be in and out of courtrooms and jailhouses for charges of libel and obscenity over the next five years. In 1876, Woodhull and Claflin's Weekly was forced to fold, and nearly broke, the sisters moved to England, marrying into wealthy families and reinventing themselves as aristocrats and patrons of the arts. While their days of agitating for women's rights and social reform were over, both lived to see women gain the right to vote both in the United States and their adopted homeland of Great Britain. Victoria Woodhull died in 1927 at the age of 88.
Last updated: January 25, 2021