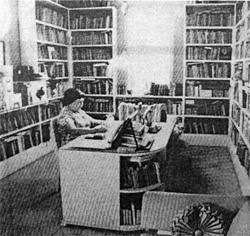 From her Spanish Revival home in the el Condado suburb of San Juan, Puerto Rico, Dra. Concha Meléndez Ramírez (1895-1983) built a literary career as one of the most memorable voices of Puerto Rican culture. As a member of the famed "Generation of Thirty," she took part in a creole literary movement that reimagined a uniquely Puerto Rican cultural identity under American rule. After Puerto Rico became an American possession, many Puerto Ricans romanticized their Hispanic past and embraced the jíbaro, or country peasant, as a distinct national symbol in protest of American imperialism.
By the early 1900s, people like Dra. Ramírez had joined a global community in which the United States had become a fixed presence. Territorial expansion and victories in two world wars had repositioned the United States at the top of a new world order. So much so that, by 1941, Time magazine publisher Henry Luce had declared the twentieth century the "American Century." While some felt that the nation's newfound influence placed America in a position to reshape the world in its own image, others like American vice president Henry Wallace called for the nation to promote American ideals abroad—such as democracy, equality, and freedom—in order to make the 20th century "the century of the common man."
The United States would spend much of that century struggling to successfully address its many interests at home and abroad. America faced a recurring dilemma—how can the nation uphold its ideals of freedom, liberty, and equality within the complex political realities of a globalizing world? Would they support democratic elections abroad even when elections placed communist leaders in power? Would they endorse the political independence of nationalist groups in the colonies of their European allies? Various presidential administrations and policymakers would find different answers to these often conflicting issues and shaped the United States' role in the world community in the process.