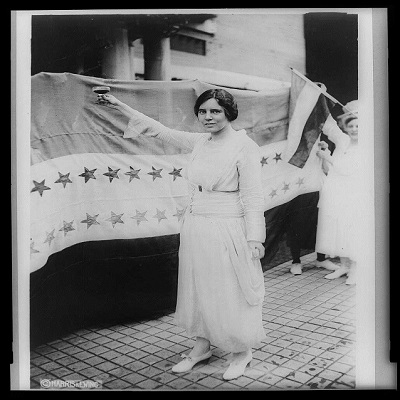 Just north of the White House lies a seven-acre patch of land that has undergone many transformations. It has been a race track, a grave yard, a zoo, and briefly—during the War of 1812—a military encampment for American soldiers. Today, Lafayette Square boasts manicured lawns and imposing monuments commemorating President Andrew Jackson and foreign heroes of the American Revolution. When President Thomas Jefferson designated the park as public land in 1804, he created a symbolic space where all Americans could have access to the home of the sitting president. Since then, Americans have gathered here to raise their voices in celebration and in protest. Alice Paul and members of the National Woman's Party stood vigil here during the winter of 1917 to demand women's suffrage. Civil rights and student activists protested racial injustice, nuclear proliferation, and the Vietnam War.
Places like this small park are important parts of the United States' political landscape. While locations like Philadelphia's Independence Hall and Virginia's Appomattox Court House have been the sites of watershed moments in our country's political development, American politics were never confined within their walls. Less exalted spaces—community parks, taverns, street corners, and workshop floors—have also stood witness to the evolving relationships between American citizens and the political process. Everyday people shape this political landscape as much as presidencies and governmental institutions. Many of their stories are preserved and interpreted in our national parks and historic sites.
For the diverse peoples who have lived in North America, political life frequently revolves around simple but incredibly powerful ideas. Liberty—the state of being free from oppressive restrictions imposed on one's way of life, behavior, or political views—has been one of the most enduring and powerful concepts in American politics. It is embedded in the Declaration of Independence and the Constitution of the United States as an inalienable right. It has sparked revolutions, built institutions, and fueled social movements. To understand the contentious past of American politics, it is useful to understand liberty as a living, evolving idea. Its features shift depending on who defines it and who has access to it. Evolving conversations about liberty and freedom has been one of the most important factors that have shaped American political culture.