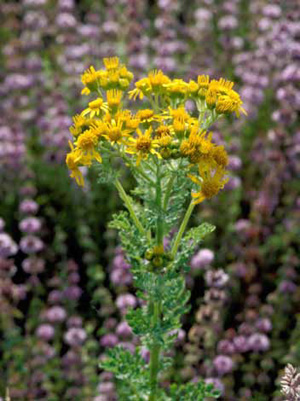 Biennial, perennial, and winter annual

Flowering stems grow 8 to 36 inches tall.

Leaves are alternate and are deeply divided into irregular segments.

Yellow flowerheads are daisy-like and occur in clusters of 20 to 60.

Fruit is an achene that is shaped like an cylinder.
Habitat and Ecology
Native to Europe and western Asia, tansy ragwort (Senecio jacobaea) now occurs in portions of the West, Midwest, and Northwest United States. Tansy ragwort was first reported in North America in British Columbia in 1913. Tansy ragwort grows best in cool, moist climates, on light, well-drained soils. It seldom tolerates high water tables or acidic soils. It usually invades pastures, rangelands, and sites near riparian and forested areas. The plants contain pyrrolizidine alkaloids, which are toxic to humans and livestock when ingested. Populations of tansy ragwort have been dramatically reduced through releases of ragwort flea beetle (Longitarsus jacobaeae) and cinnabar moth (Tyria jacobaeae).