Article
SW CA Condor Update - 2019-09 (September)
Condor Enthusiasts -
Please see the latest update on the Arizona/Utah condor population below including a summary of releases through the captive-breeding program, results and status of the 2018 and 2019 breeding seasons, and the size of the total population. All condors are identified below by WingTagNumber (StudBookID#_Sex_YearHatch). The wing tag is what you will use to identify the birds in the wild when observing them! The Stud book ID # is unique to each individual condor.

2018 + 2019 RELEASES:
The Peregrine Fund has successfully released 17 captive-bred condors into the wild from their release pen at the Vermillion Cliffs in 2018 and 2019!
T5 (826 f16), T2 (832 f16), T3 (833 f16), T6 (836 f16), T1 (843 m16), and 44 (844 f16) were released in March and April of 2018.
VO (880 ?17), V1 (855 f17), V2 (857 m17), and V3 (883 m17) were released on Septmeber 22nd, 2018 at a public viewing with the highest attendance ever. Over 700 people turned out for the release!
V9 (858 f17), VC (873 f17), V4 (884 f17), and VF (886 f17) were released in October 2018.
V+ (876 m17), V5 (885 m17), and VH (887 f17) were released in the spring of this year.
On National Public Lands Day, September 28th, 2019, The Peregrine Fund will hold a public release of captive-bred condors at the Vermilion Cliffs Condor Release Viewing Area off House Rock Road in Marble Canyon, AZ.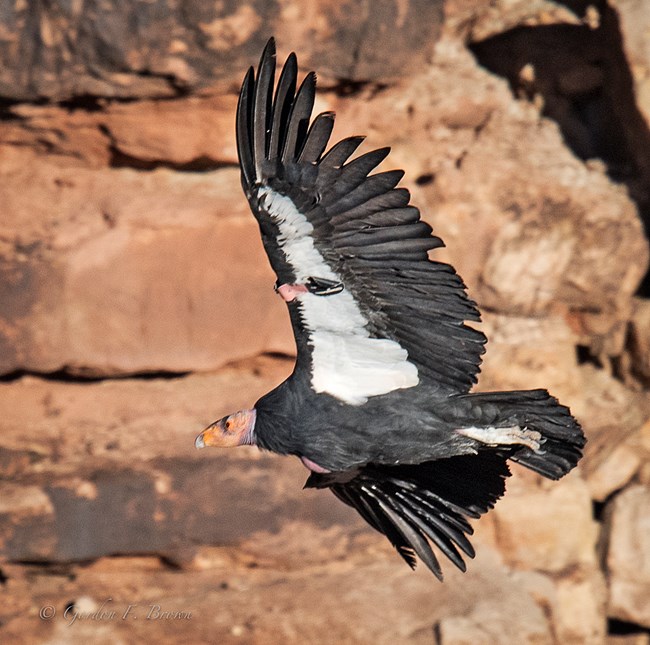 BREEDING STATUS UPDATE:
2018:

Grand Canyon NP, AZ:
80 (280 f02) + 87 (187 m98) successfully fledged X4 (954 ?18) in October 2018 from the Battleship formation. X4 is now one of the most frequently seen condors on the South Rim.
47 (447 f07) + 03 (203 m99) fledged X5 (955 ?18) from Thunder River, who has been repeatedly seen on the Kaibab Plateau.
Glen Canyon National Recreation Area, AZ/UT:
H9 (496 f08) + 54 (354 m04) fledged 952 (?18) in Marble Canyon near the Navajo Bridge.
2019:

Vermillion Cliffs, AZ:
-6 (296 f03) + 66 (266 m02) hatched their fourth chick, #997, in six years!
Kaibab National Forest, AZ:
Two pairs, 89 (389 f05) + -3 (293 m03) and L3 (593 f11) + 43 (243 m01), are raising chicks #998 and #1001, respectively, on the east side of the Kaibab Plateau.
Zion National Park, UT:
9 (409 f06) + J3 (523 m09) have produced condor chick #1000 near Angel's Landing! This is the 1000'th individually identified condor since the start of conservation efforts.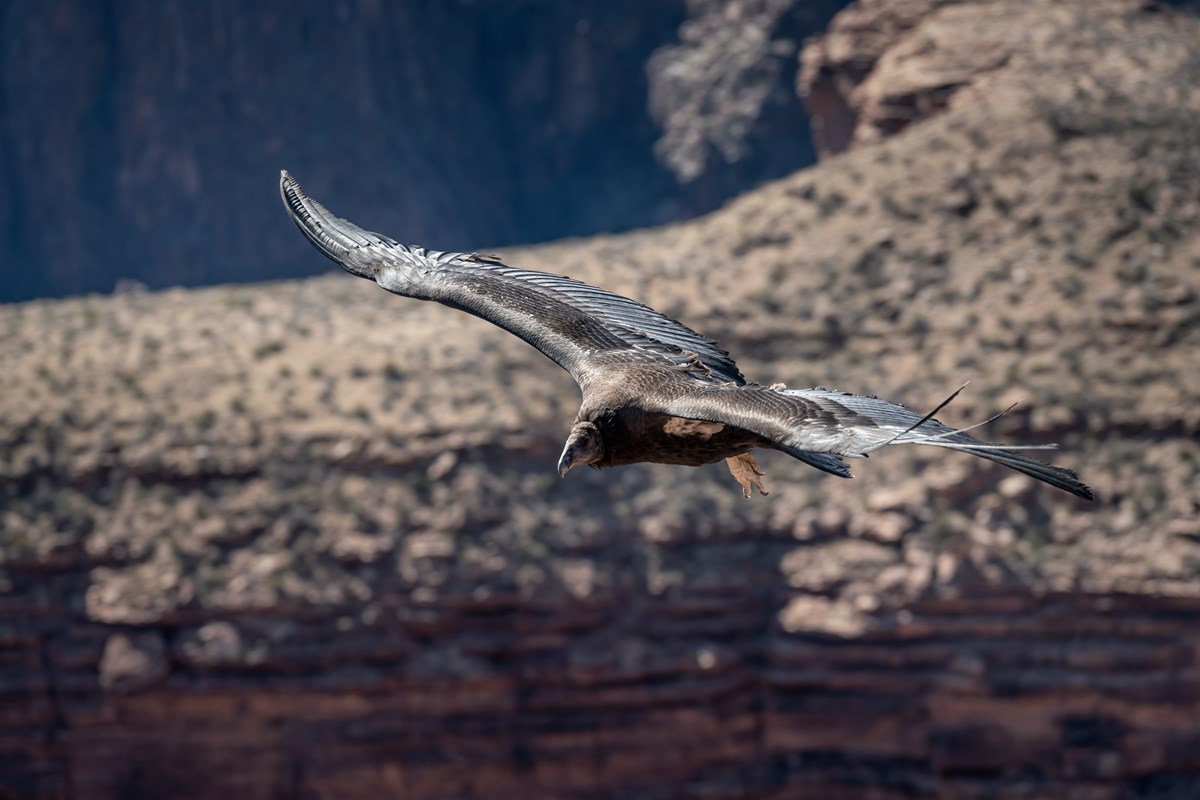 CURRENT POPULATION SIZE:
2019:
Arizona + Utah Wild Population: 92

Unfortunately, at this time we do not have numbers for California, Baja or the total captive population in 2019. However, here are the population sizes as of 2018:
2018:
California, USA (Wild): 188
Baja California, Mexico (Wild): 36
Total Captive Population: 176
Prepared by Cody Lane, Wildlife Program Field Assistant, Grand Canyon National Park (September 2019).
Last updated: March 2, 2020