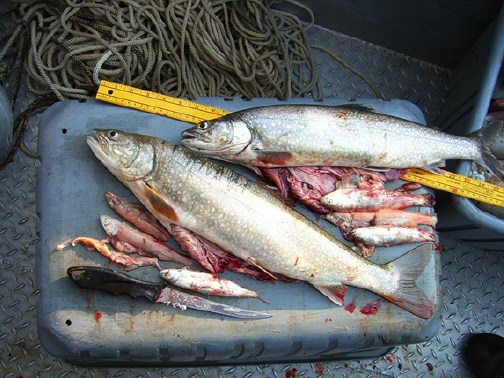 from Yellowstone Science 25(1)
by Patricia E. Bigelow, Philip D. Doepke, Brian D. Ertel, Christopher S. Guy, John M. Syslo, & Todd M. Koel
The suppression of lake trout via netting has been ongoing in Yellowstone Lake since 1994 when this non-native species was first discovered. Twenty-two years later, we continue to catch large numbers of lake trout. So, why should lake trout suppression be maintained, what's the science behind it, and what's the prognosis for the future? This article provides information about why lake trout are detrimental in Yellow stone Lake, reviews past suppression efforts, describes where the program is now, and reflects on the future of lake trout suppression and Yellowstone cutthroat trout recovery.
Background
Yellowstone Lake is home to the largest population of Yellowstone cutthroat trout in existence. This population plays a critical role in the ecosystem, transporting nutrients from lake waters to tributary streams during spawning and to the terrestrial (land) system when the fish are eaten by birds and mammals (see "Birds and Mammals that Consume Yellowstone Cutthroat Trout," this issue; Crait and Ben-David 2006). Also, cutthroat trout have a predominant influence on the structure of the lake community, including zooplankton and phytoplankton (see "Non-native Lake Trout Induce Cascading Changes in the Yellowstone Lake Ecosystem," this issue; Tronstad et al. 2010). They have provided a world-renown angling opportunity for more than a century, drawing anglers from around the globe and contributing $36 million annually to local economies (Varley and Schullery 1995).
Lake trout, however, are voracious, efficient predators that frequently live 20-25 years and are able to reach large sizes—the Wyoming state record for a lake trout is approximately 23 kg (50 lb.; Martinez et al. 2009). Their large size enables them to produce thousands of eggs annually, which leads to rapid population growth and an expanding distribution. Lake trout can consume cutthroat trout up to one-third their own size. Although lake trout need energy-rich prey such as cutthroat trout to continue to grow, they can persist for years with minimal food resources due to their cold-blooded nature. For example, in a reservoir in Colorado, tagged lake trout persisted for over 10 years after the loss of kokanee salmon, their preferred prey, though most of these fish had not grown since release (Martinez et al. 2009).
These traits make it possible for lake trout to have drastic impacts on ecosystems outside their native range. Given their long lives, ability to eat large prey, efficient predatory skills, and ability to persist on a variety of foods, lake trout not only deplete native species, but also persist at levels that keep native populations suppressed. Thus, when a 43 cm (17 in.) lake trout was caught in Yellowstone Lake in 1994, fishery professionals and park managers realized they had a serious problem. Non-native lake trout could decimate the native cutthroat trout population and then, due to their cold-blooded nature, persist at high numbers on other foods preventing their preferred prey (cutthroat trout) from recovering. Lake trout readily consume foods cutthroat trout historically subsisted on in Yellowstone Lake. In addition to killing cutthroat trout, lake trout could reduce the cutthroat trout's food base, thereby making cutthroat trout recovery impossible until the lake trout population is suppressed.
Initial Efforts to Suppress Lake Trout
After confirming lake trout were successfully reproducing in Yellowstone Lake (Varley and Schullery 1995, Kaeding et al. 1996), the National Park Service (NPS) convened a panel of expert scientists to determine the likely extent of the problem, recommend actions, and identify research needs. The panel concluded the suppression of lake trout was necessary to protect and restore native cutthroat trout, but would require a longterm, possibly perpetual, commitment. The panel also indicated direct removal efforts, such as gillnetting or trap netting, would likely be most effective (McIntyre 1995). As a result, research on lake trout movements, spawning, diet, and abundance was initiated (Ruzycki et al. 2003). Early removal efforts were expanded in 2001 using a Great Lakes-style gillnetting boat, miles of gillnets, and personnel specifically hired to gillnet lake trout through summer (June through mid-October). These efforts increased the amount of gillnet fishing for lake trout more than 10-fold. In response, the number of lake trout removed from the population doubled, and incidental catch of native cutthroat trout was greatly reduced by fishing deeper waters not typically used by cutthroat trout (Bigelow et al. 2003).
Over time, fishery biologists learned more about the best ways to detect and target lake trout. In spite of this, increased gillnetting effort continued to result in increased catch, suggesting the lake trout population was continuing to grow (figure 1). Thus, Yellowstone National Park (YNP) managers decided an in-depth review and reevaluation of the direction of the program was needed. In 2008, 15 experts were convened to evaluate the suppression program and recommend future actions. Although the lake trout population had continued to expand (Syslo et al. 2011), the panel concluded netting remained the most viable option for suppressing the population. Yet, they also indicated a considerable increase in suppression effort would be needed over many years to collapse the lake trout population (Gresswell 2009). In addition to maintaining the number of NPS staff dedicated to the program, the panel recommended contracting commercial fishermen to substantially increase effort and efficiency (Gresswell 2009). If commercial fishing could collapse lake trout populations in many of the Great Lakes, it could work in Yellowstone Lake.