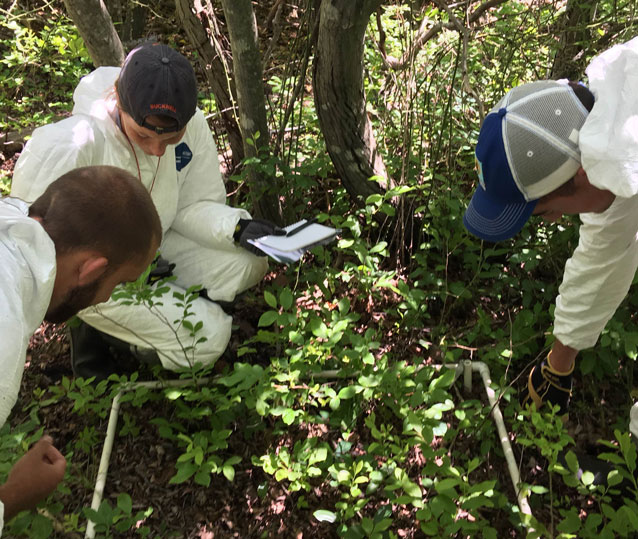 For decades, the National Park Service (NPS) has conducted research that demonstrates how pressures from white-tailed deer are threatening a globally rare ecosystem: Fire Island National Seashore's Sunken Forest.

From 1960 to 1990, Dr. Henry Art established monitoring plots and studied how herbivores, primarily white-tailed deer, have shaped the forest structure. Dr. Art's work provides a look at how the forest has changed since the deer population dramatically increased. His research showed a decline in American holly, sassafrass, and tupelo in the Sunken Forest.
Since then, scientists have returned to survey Dr. Art's vegetation plots within the Sunken Forest to understand how the Sunken Forest is changing. These surveys have shown the forest understory is severely impacted by deer browsing. Overbrowsing has limited the ability of the forest to mature and regenerate, and threatens its survival long term. 

In addition, recent studies have shown threats from erosion and sea-level rise. Erosion along the bayside of the Sunken Forest has resulted in both a loss of trees and understory vegetation adjacent to the shoreline. Similarly, in areas of low elevation, loss of vegetation has been documented. Loss in these areas is most likely due to the thinning of the "vadose zone," the unsaturated section of earth between the land surface and the underlying ground water system. Thinning of the vadose zone is caused by both erosion and the rise in sea level and this thinning is drastically changing the forest.
The process of succession leading to a climax forest stage most likely took around 300 years in the Sunken Forest. Research in recent years has shown that without intervention this natural habitat could be lost forever.
 
Last updated: January 29, 2019