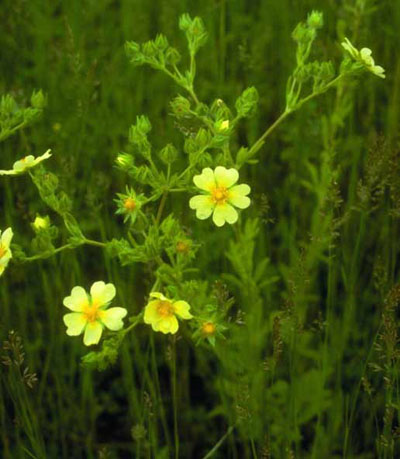 Perennial

8 to 30 stems per plant

Shiny, erect hairs arise at right angles to the stems.

Leaves alternate and palmately compound

Pale yellow flowers occur in branched inflorescences at the ends of the stems.

Fruit is an achene with a netted pattern covering the surface.
Habitat and Ecology
Native to the eastern Mediterranean, sulfur cinquefoil (Potentilla recta) was introduced to North America before 1900 and is now well established throughout much of the United States and Canada, particularly in the inland areas of the Pacific Northwest. Sulfur cinquefoil establishes in a variety of ecosystems, and in the West, it is able to invade undisturbed grasslands, shrublands, and open forests. It also invades disturbed sites, such as roadsides, abandoned fields, and areas with heavy livestock grazing. Because of the high tannin content of its leaves and stems, livestock tend to avoid eating it. Sulfur cinquefoil may hybridize with native cinquefoils.