Successful Prescribed Burn Completed at Little Round Top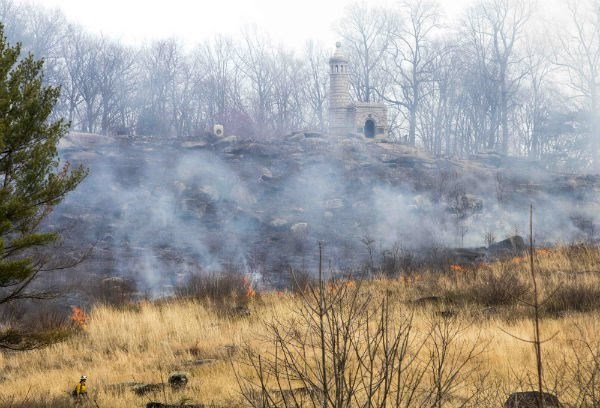 Gettysburg National Military Park successfully burned 52 acres of Little Round Top on Monday, April 10, to remove grass, undergrowth and brush from an area historically open at the time of the Battle of Gettysburg. The change in the appearance of some of the most famous fighting of the American Civil War was immediately apparent, as the removal of the overgrown grass and woody shrubs by the fire revealed the presence of far more rocks and boulders than had previously been visible.

The burn was coordinated by Northeast Region fire management specialists and is the fifth conducted at Gettysburg since 2013. In addition to restoring the cultural landscape, the burn helps reduce the buildup of potential wildfire fuel. Gettysburg National Military Park staff were joined by fire crews from Acadia National Park, Cumberland Gap National Historical Park, Delaware Water Gap National Recreation Area, and Gateway National Recreation Area, as well as a crew from the U.S. Fish and Wildlife Service.

Adding to the challenge of managing the fire were the many cultural resources located within the burn area. Forty monuments, more than a dozen witness trees, four historic cannon, and breastworks built by Union soldiers in 1863 were all successfully protected from the burn by clearing potential fuel in advance of the burn. Additionally, the park conducted an archeological investigation in February to identify previously unknown and potential archeological resources that needed to be protected from the impacts from fire. Natural resources were also monitored and protected, including a gridded search for and removal of slow moving turtles that would not be able to evacuate the area once the fire started.

While the active phase of the prescribed burn was completed on Monday, mop up operations and monitoring continued through Tuesday. If weather conditions are favorable, a second burn will take place at Pardee Field, on the lower slope of Culp's Hill, on Thursday, April 13.

Little Round Top is the location of some of the most famous fighting of the Battle of Gettysburg. Its rocky slopes anchored the left flank of the Union Army of the Potomac on July 2-3, 1863. Cleared of vegetation on its western face sometime prior to the American Civil War, its open views and sweeping vistas made it an ideal point of observation and a platform for artillery. Brutal fighting swept across its lower summit on July 2, 1863.
Last updated: January 10, 2018