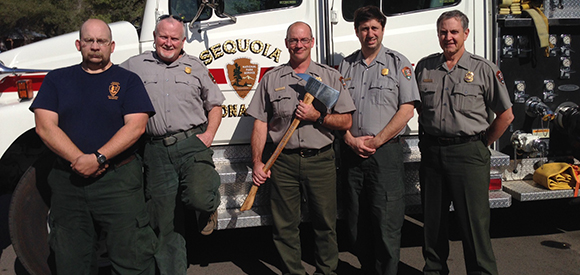 During the September 2013 Operations Training for Fire Suppression Parks, the Office of Structural Fire presented awards to those parks and individuals who have made a difference over the past year in furthering the structural fire program agencywide.
The program recognizes that without the dedicated, selfless contributions of many individuals and parks in support of structural fire operations it would not be possible to train and prepare National Park Service employees to respond safely and effectively when lives and property are at risk.
Each year the Office of Structural Fire presents awards to an instructor of the year, to a park that has shown a strong commitment to maintaining an effective fire suppression operation, and also to some individuals whose dedication to the program, in any number of ways, has helped to build this program to where it is today.
The Superior Achievement Award was given to Sequoia and Kings Canyon National Parks in recognition of efforts to develop and maintain an effective and safe structural fire suppression program. Representing the program for the parks, Kings District Fire Management Officer and Parks Structural Fire Coordinator John Ziegler and Chief Ranger Kevin Hendricks accepted the award, stating "It was a team effort with people from all divisions within our park contributing to our progress. It is an honor to get this award." Chief Ranger Kevin Hendricks said he is proud of the hard work and progress they have made on their structural fire program. "Many, many people have had a hand in bringing our structural fire program along these past few years. We have a ways to go still, but we have made some significant improvements: new turnouts, new SCBA (self-contained breathing apparatus) bottles, other new equipment, getting non-VRP employees involved in the program (and medical exams for them), a good partnership with Fresno City Fire Department, the finalization of our Structural Fire Management Plan, some headway on ITM (inspection, testing, and maintenance of fire protection systems), prep work for a new compressor someday, and of course, the live-fire training site. This is a group award, and I really appreciate the work of everyone involved in the program, including those who have moved on to other locations: Brit Rosso, Jack Corrao, Kyle Nelson, and others. Now we'll need to figure out a location to proudly display our fire ax!," Hendricks added with a smile.
The Compliance Achievement Award was given to Grand Canyon National Park for showing dedication to an effective and safe structural fire program by demonstrating compliance with NPS policy and industry standards. The award was accepted for the park's structural fire program by Grand Canyon Fire Chief David Van Inwagen. Chief Van Inwagen stated, "No matter how much I want to accomplish all the standards each year, it can't be done without the backing and support of the park's leadership team, who dedicated the $50,0000 needed for two years running to complete the annual ITM of alarms, sprinklers, and extinguishers."
The Outstanding Fire Instructor of the Year Award was given to Paul Glazer, supervisory information technology specialist at Grand Canyon National Park, in appreciation for his contributions to the Structural Fire Operations Training Program by applying his knowledge, skills, and enthusiasm to help prepare our firefighters to safely protect lives and resources. Paul, who is also a collateral duty battalion chief for the park's fire department, said, "This is an incredible honor. I am extremely proud to be associated with such a group of dedicated and talented professionals." And he jokingly remarked, "I feel very humble, but I'm sure I have the strength of character to fight it." (Thanks, Bob Hope)