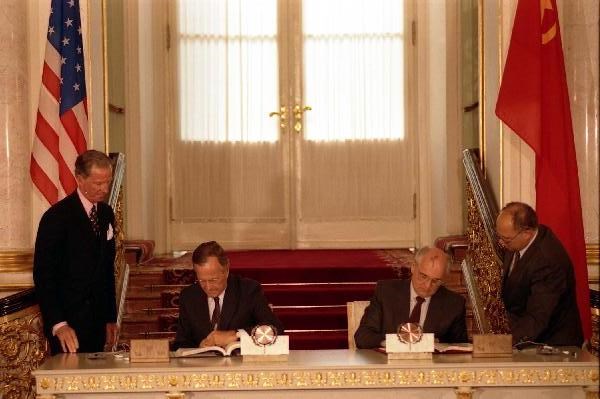 The Strategic Arms Reduction Treaty (START) was signed on July 31, 1991 by President George H.W. Bush and Soviet President Mikhail Gorbachev. The treaty limited the number of Intercontinental Ballistic Missiles (ICBMs) and nuclear warheads either country could possess. When fully implemented, the treaty resulted in the removal of about 80 percent of all strategic nuclear weapons then in existence. Proposed by President Reagan, it was renamed START I after negotiations began on the second START treaty.
The treaty directly led to the deactivation and destruction of all 450 Minuteman II Launch Facilities (LFs) and 45 associated Launch Control Facilities (LCFs) with the exception of Launch Facility (Missile Silo) Delta-09 and Launch Control Facility Delta-01. Due to language in the treaty, these sites were preserved for historical interpretive purposes and would eventually become Minuteman Missile National Historic Site.
The treaty restricted the United States to approximately 8,556 nuclear warheads and the Soviet Union to approximately 6,449 nuclear warheads. Weapons in excess of the agreed upon number would be disarmed and Launch Facilities destroyed. Congress ratified the START Treaty in October 1992. The signing of the START Treaty concluded disarmament talks that had begun almost a decade earlier in the early 1980s. The START Treaty established limits on all three parts of the American nuclear triad. It limited the number of ICBMs and their Launch Facilities (Missile Silos) and warheads; Submarine Launched Ballistic Missiles (SLBMs), their launchers and warheads; and heavy bombers and their weapons.