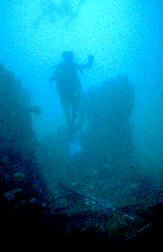 The SS Tarpon was built in 1887 and named the Naugatuck. The iron hulled twin screw steamship served during the period when railroad began replacing steamships. Many steamship companies were losing money, and the Naugatuck changed owners several times. Eventually, the Pensacola, St. Andrews & Gulf Steamship Company purchased the vessel. Willis Barrow was chosen to be its captain. For more than 30 years, starting in 1903, Barrow and the Tarpon made weekly runs along the northern Gulf coast. It is estimated that Barrow made more than 1,700 trips on the Tarpon. By 1937, the Tarpon was considered to be one of the most reliable and dependable vessels operating along the panhandle.

On August 30, 1937, the Tarpon left Mobile, Alabama loaded with as much freight as possible. The vessel carried more than 200 tons of general cargo, 200 barrels of oil, and 15 tons of fresh water. As a result, the free board ( the distance between the waterline and the top of the deck) was less than 5 inches. In the early morning of September 1st, the ship started to take in water as the seas became more turbulent. The crew started to jettison cargo, but as dawn approached, a gale took over the vessel. In a last ditch effort, the first mate steered the ship towards lands in an attempt to run it aground before it sank. Captain Barrow was among 18 of the 31 aboard who drowned--there was no radio to call for help.

Although the Tarpon is deteriorating, the remains are still visible on the sand and hardpan bottom. The wreck is approximately 160 feet long and 26 feet wide. It was in relatively good condition in the early 1970s when a fierce storm in the Gulf of Mexico damaged the amidships and stern sections. Since then the bow has also collapsed. The Tarpon is one of Bay County's oldest artificial reefs and is teaming with marine life.

The SS Tarpon is located 7.8 nautical miles offshore of Panama City on the Florida panhandle. The wreck is submerged in 95 ft. of water and situated parallel to the shoreline with the bow facing west. The shipwreck is located within a Florida Underwater Archaeological Preserve, and a laminated underwater guide is available from local dive shops. The preserve is open to the public year round, free of charge.
Florida's Shipwrecks: 300 Years of Maritime History features a Teaching with Historic Places online lesson plan, The Spanish Treasure Fleets of 1715 and 1733: Disasters Strike at Sea. This lesson plan has been produced by the National Park Service's Teaching with Historic Places program, which offers a series of online classroom-ready lesson plans on registered historic places. To learn more, visit the Teaching with Historic Places home page.