Sacramento, CA (January 30, 2020) –
One of our newest National Heritage Areas, the
Sacramento-San Joaquin Delta National Heritage Area
, is so well known for its fertile ground that it has been nicknamed "California's cornucopia." The legendary status of these agricultural lands has long attracted farmers from around the world. One of those farmers, born in Japan, came to the Delta to find work and eventually built and lost a business empire fueled by potatoes.
George Shima, born Ushijima Kinji in Kurume, Japan in 1864, wanted to attend university in Japan and become a scholar of Chinese classics. After failing the English language section of the entrance exam, he realized he would have to change directions.
Because the United States government had passed the Chinese Exclusion Act in 1882, there were suddenly more openings for immigrants from other countries to find work in the US. Ushijima Kinji moved to America in 1889, changed his name to George Shima, and worked first as a domestic servant in San Francisco and then as a farm laborer in the Sacramento Delta. Shima developed a reputation as a hard worker and was eventually able to buy some land in the San Joaquin Delta.
The marshy lands he bought were cheap, and considered inappropriate for farming, due to the regular flooding of the area by the Sacramento River. The active farmers in that region shunned the peaty, mosquito-filled lands that Shima had purchased, and his first attempts at crops, concentrating on beans and rice, were unsuccessful. It wasn't until he switched to potatoes that he realized his true calling. Once he began to harvest many successful plantings of beautiful spuds, he was able to purchase more of the land that others had thought was useless. Between 1889 and 1913, Shima would expand his farm to more than 28,000 acres.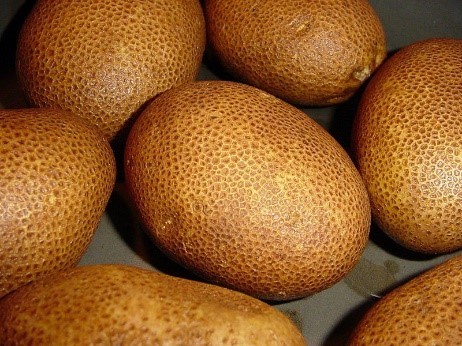 Shima had cleverly developed a system of dikes, ditches and water pumps, which allowed him to manage the water levels in his potato fields. Silt deposits, provided by the natural floods, and leftover vegetation, discarded after plowing, provided a soft, fertile soil rich in nutrients in which the potatoes flourished. Shima's potatoes became known for their especially smooth, pale skin and overall high quality. From there, his business took off and he was able to create jobs for other Asian American workers.
By 1909, Shima's farm produced more potatoes than any other in the world, and a newspaper article named him the "Potato King." He expanded his business enterprises when he and a friend financed the construction of the luxurious Stockton Hotel in Stockton, CA. His grand yearly parties for bankers, merchants and journalists, and his ability to lead a comfortable, lavish lifestyle, contributed to his high profile, and he eventually became the first Japanese American millionaire.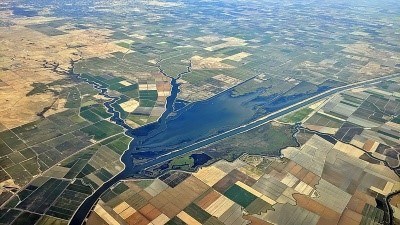 Shima's wealth and fame came to an abrupt halt when the US government passed the Alien Land Law in 1913 followed by California's Alien Land Law in 1920. Both these laws instituted restrictions on Japanese, Chinese, Indian and Korean immigrants from buying or owning farm land. As a result of this terrible discrimination, Shima joined and became president of the National Japanese Association of America (JAA) and tried to push back against the racist laws. However, the JAA was unable to prevent passage of these and subsequent restrictive laws. Because of this, Japanese immigration into California was almost stopped until 1952.
The mission of the Sacramento-San Joaquin Delta NHA is to protect and enhance the unique cultural, recreational, natural and agricultural resources of the Delta as a living landscape. Though Shima passed away in 1926, the Sacramento-San Joaquin Delta remembers him for his economic and agricultural contributions to their area, and his important place in American history. Today, San Joaquin Delta College in Stockton remembers this remarkable individual with the Shima Center, where students can study agriculture, and other subjects.
Discover
more news and stories from America's National Heritage Areas
.