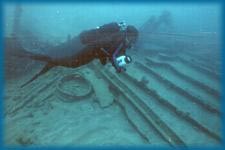 The SS Cophenhagen was a steel-hulled schooner-rigged screw steamship. The vessel was constructed in Sunderland, England. It was registered to the Glasgow Shipowners Company, Ltd. The vessel was used to transport cargo across the Atlantic. Two years after the vessel launched in 1898, the Copenhagen sank on a voyage between Pennsylvania and Cuba. The Copenhagen was transporting almost 5,000 tons of coal when it ran aground and became stranded. The crew began unloading the cargo, but were not able to free the vessel from the reef. The crew abandoned the vessel.
An investigation reported that official cause of the wreck was improper navigation by the ship's captain, William S. Jones. The wreck was visible above the water for a long time so the Navy used it for target practice during World War II, before it sank. The engine, boilers, propeller, and other machinery was stripped from 325 foot by 47 foot ship. It is well preserved and many of its features are still recognizable. During an excavation attempt, the bow was removed. It lies 200 yards southeast of the wreck. Today, the Copenhagen has become an artificial reef.
The SS Copenhagen rests on the ledge of a reef in 16-31 ft. of water with its bow facing south and is located ¾ of a nautical mile offshore of Lauderdale-by-the-Sea, south of Hillsboro Inlet. No anchoring is allowed at the wreck site but mooring buoys have been placed nearby. Located within a Florida Underwater Archaeological Preserve, a laminated underwater guide is available from local dive shops. The preserve is open to the public year round, free of charge.
Florida's Shipwrecks: 300 Years of Maritime History features a Teaching with Historic Places online lesson plan, The Spanish Treasure Fleets of 1715 and 1733: Disasters Strike at Sea. This lesson plan has been produced by the National Park Service's Teaching with Historic Places program, which offers a series of online classroom-ready lesson plans on registered historic places. To learn more, visit the Teaching with Historic Places home page.