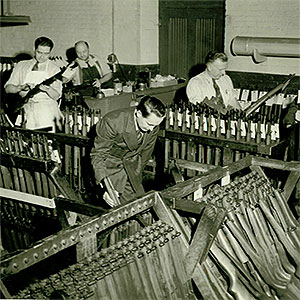 When American forces entered World War I in 1917, much of the military equipment, including the weapons and ammunition used on the battlefield, had to be supplied from other countries.  The United States was ill prepared for a war of such magnitude.  Following World War I, the Springfield Armory, the Army's primary small arms research, development, and manufacturing facility located in Springfield, Massachusetts, began development of a new semi-automatic rifle.  
By 1932, John Garand, a Springfield Armory engineer, developed a new rifle that would be adopted as the M1.  The M1 rifle went into production in 1936, with an increase in military spending as political turmoil grew throughout the world.  Adolph Hitler's invasion of Poland in 1939 would topple Europe into another World War.  In the ramp up to war, Springfield Armory would see a 250% budget increase in 1940 leading to new facilities and improved production practices in the manufacturing of M1 rifles.  On the eve of Japan's attack on Pearl Harbor, the Springfield Armory workforce, about 7500 people, was five times larger than it had been only a few years earlier.       
The workforce would continue to grow as the United States officially entered World War II.  Springfield Armory became a round-the-clock operation with three shifts working to produce M1 Rifles.  At peak production, 1300 completed M1 rifles were made each shift.  That is 164 rifles an hour! 
The need for increased staff led to more employment opportunities for women.   The Women Ordinance Workers, or WOWs, would fill most aspects of M1 production from heavy forging to stock-making.  Eventually, 43% of the Springfield Armory workforce was filled by women.
By the end of the war, 3.1 million M1 rifles were manufactured at the Springfield Armory.  The M1, used throughout Europe and the Pacific, became the envy of the world with General George Patton describing it as "The best battle implement ever devised."  In less than 30 years since World War I, the United States became the best equipped military in the world thanks to the Springfield Armory.