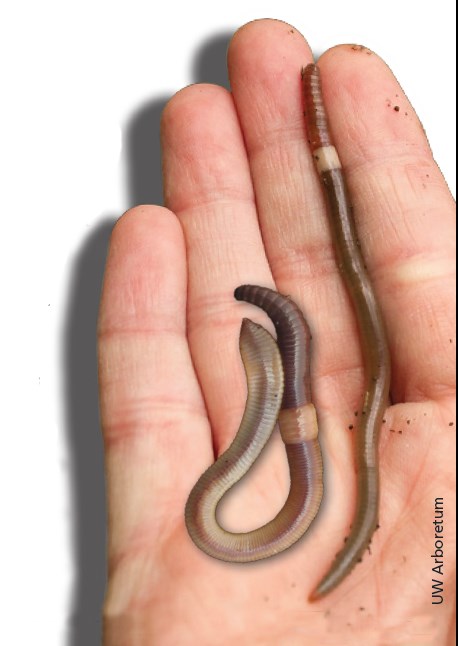 What is it?
You would be forgiven for thinking that something called the Alabama Jumper, Jersey Wriggler, or Crazy Snake-Worm was either some kind of wild new cocktail or amusement park ride, but it is unfortunately something much more sinister than that. A new forest threat has oozed into our region, and it's literally right under our feet. Worse yet - it is a creature that most of us were raised to believe as being a beneficial presence in our yards and gardens. Indeed that is true of some worm species, but not the crazy snake-worm - an aggressive invasive earthworm with the potential to completely alter the character, functionality, and make-up of northern forests. Introduced from East Asia around 80 years ago, it has since become well established in most southeastern states, and has recently wormed its way into Wisconsin, Illinois, Oregon, and many northeastern states.
Just looking at one you might be hard pressed to tell the difference between it and any other species of earthworm. But try to grab hold of it and you'll quickly understand the energetic nicknames this worm has earned. They thrash about so wildly they can come clear off the ground. Their locomotion is where "snake" comes in, as they slither from side-to-side to move rather than using the more typical inch worm-like method. You need to YouTube them immediately.
How does NETN monitor it?
NETN's long-term forest health monitoring program helps to track earthworm invasions and impacts. Each site visit, all forest plots are visually inspected for signs of worm presence or activity (burrows and casts). At this point, worms are not identified to species since monitoring takes place too early in the season to easily distinguish what kind of worms they are, but it is likely that most of what is being seen in plots so far are in the Lumbricidae family (of night crawler fame).
NETN parks vary in degree of earthworm invasion, and there is a decidedly north-to-south gradient with the southernmost parks being most invaded. Morristown NHP in NJ, Saratoga NHP in NY, and Weir Farm NHS in CT are particularly laden with earthworms with 90 to 100% of monitoring plots showing signs of earthworms.
Why is it a problem?
In your garden, as worms decompose organic matter and digest soil they release nutrients making them more available to plants. In addition, their tunneling activity creates pathways for air, water, and plant roots. But it's when earthworms escape to the forest that things really start to go sour.
There haven't been native earthworms in the northeast since the last ice sheet pulverized them over 15,000 years ago, and as a result northern forest ecosystems have evolved without them. Their natural decomposers aren't worms, but fungi and other microflora and fauna that release nutrients slowly over time. All of the 30 or so earthworm species in the region today have been introduced. They are spread from nursery stock, by gardeners sharing plants, improperly discarded fishing bait, and in some commercial mulch and compost. The fisherman's-favorite "night crawler" earthworm is also a big concern for forests as it too is a big eater, but it is the crazy snake-worm that holds the potential of having the most negative impacts.
European earthworms like the night crawler are hermaphroditic, that is, they possess both male and female organs, though they still need to mate to produce offspring. Snake worms, however, can use "parthenogenetic" reproduction, meaning they create egg cocoons without needing to mate. Mature snake worms create 1-2 eggs with each cocoon, which may not sound like much until you realize a worm can create about 60 of these cocoons in a season and the hatched worms can create cocoons of their own in just a couple months. When hundreds or even thousands of worms hatch at once, you may see a truly Hitchcockian spectacle - what looks like thousands of small filament hairs wriggling across the soil surface.